Canyonlands National Park, Utah
I've been debating for a very long time whether or not to write this Travel Log, not because Canyonlands National Park wasn't great, but simply because it was pre-digital photography and I've taken a lot of pride in the photography on Western-Traveler.  After reviewing (and tweaking) the images I had from scanned photographs I've decided that the story was worthy enough on it's own, so here goes.  Keep in mind that these are old photos and I certainly don't look youthful anymore, though Jeff and Rachelle have aged much more gracefully, totally not fair.
I'm hoping at some point to return to Canyonlands with a digital camera and basically "go wild" with the photography.  This is a place that certainly rates a second (or third, or fourth, or fifth, you get the idea) look.
This is one of my earliest road trips with Jeff & Rachelle, and is so early that it even pre-dates the Two-Headed Jesse-Jackson Era (inside joke).  It was great fun sharing this with my then, relatively new friends.
The Canyonlands experience was one of my first true Western adventures and was without question an absolutely fantastic first journey into the Red Rock Country of southern Utah.  Being from Kentucky, this whole environment was alien to me, but wonderful on many levels.
For starters, the drive down took me from the near alpine environment of Park City, Utah down into what I called "hard core" desert country.  You could look across the desert for mile after mile of sandy and rocky terrain which I imagined to be very Mars-like.  The brilliant reds, oranges, rusts and browns were unlike anything I'd ever seen.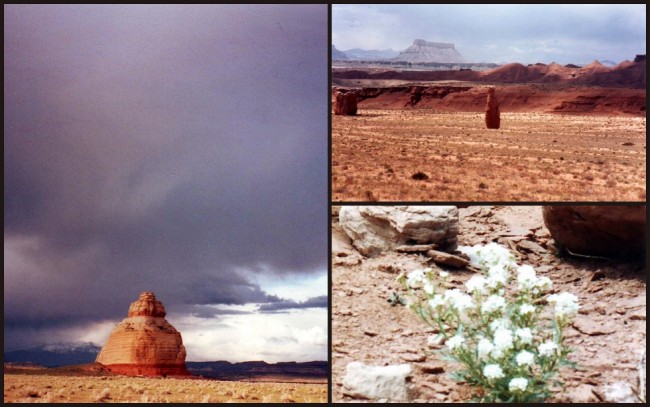 Then came the camping.  As we set camp out in the middle of nowhere we could see some black clouds way off in the distance.  I'd like to say that we were brilliant in our selection of a campsite, but frankly we just got lucky, more about that later.  As the daylight fell the horizon came alive with one of the most impressive lightning shows I've ever seen.  We sat by the fire "taking it all in" until it was time to seek shelter as the rain began.
This is to date the single most memorable night I've ever spent in a tent.  It came from Sears; not the likes of REI, Campmor or any other high-end outfitter.  Nope, our poor little 8 x 8 Hillary tent was all that stood between us and oblivion.  As the massive storm swept down upon us it was time to "hunker down" for the night-long event.  The rain was torrential, and the wind so powerful that it literally smashed the roof of our tent down upon our faces over and over again.  The storm finally broke around daybreak.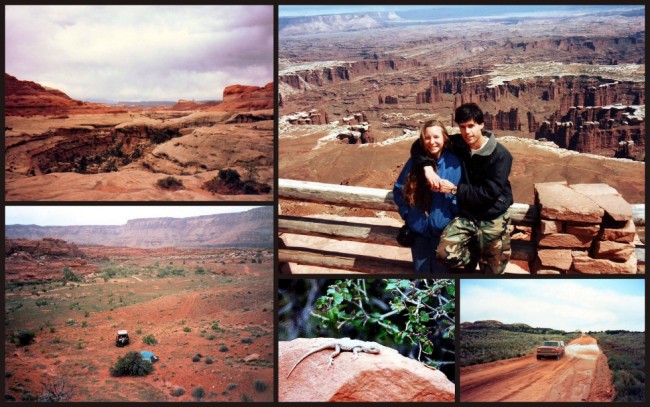 We timidly came out the next morning, amazed that our little tent had survived such an assault.  Surprisingly, very little water penetrated the walls, floor or roof of our Hillary, which by the way lived to fight another day.  As we surveyed the campsite the next morning, we had a rude awakening. If we had we set the tent just a few feet to the side of where we'd put it we would've been right in the middle of a huge wash, probably swept off to who knows where.  This was one of those trips where we started taking the backcountry more seriously, something that has stayed with us for over two decades now.  It's amazing how a little aging and a lot of experience makes one wiser.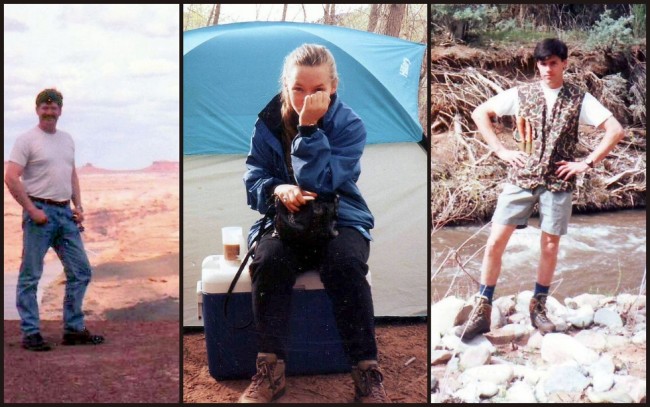 Adding to the weather fun was the sheer joy of exploring the desert.  We did a great hike called the Lost Valley Trail which took us up and down in and out of wonderful canyons for an entire day of exploration.  One of the most memorable things about this trek was the smell of a wonderful flower called the Desert Primrose, who's aroma carried in the breeze for miles.  We had hoped to backpack in and spend the night but as Canyonlands is so popular, there were no backcountry sites left for us.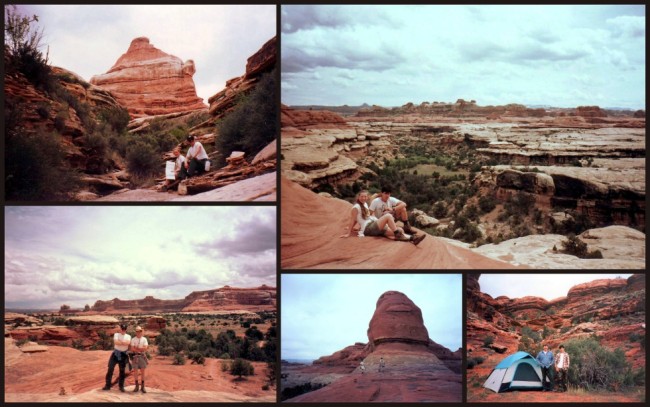 The next day we had another great excursion into the desert as we took a guided tour of the Fiery Furnace, an incredible geologic maze of huge vertical fins.  Our guide was outstanding and informative.  While visiting with the guide, I had identified myself as a Park Ranger at Mammoth Cave he asked me to "trail" the tour group for him, something I was honored to do.  This was the only time in my 30 year NPS career that I got to do anything "official" in a Western park, so it was a big deal to me.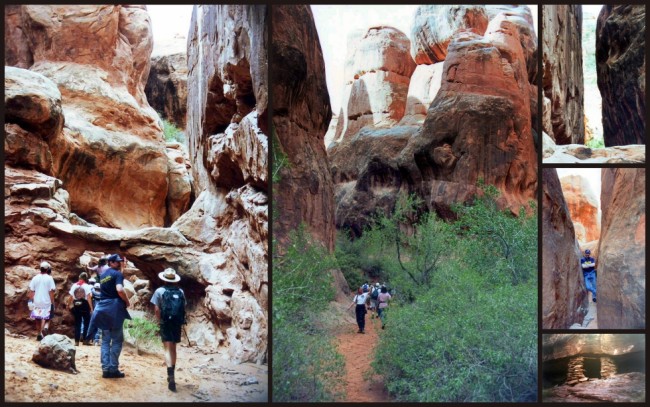 If you ever have a chance to visit Canyonlands, do so.  This is one of the last semi-undisturbed areas on the Colorado Plateau.  With over 337,000 acres of wilderness you're sure to find a place where you can "take it in" all by yourself.  The elevation ranges from 3,700 to 7,200 feet above sea level so altitude isn't a big deal.  You'll want to allot yourself some time for Canyonlands as it's divided up into four districts (Island in the Sky, Needles, Maze and Rivers) and there are no roads that directly link any of them together.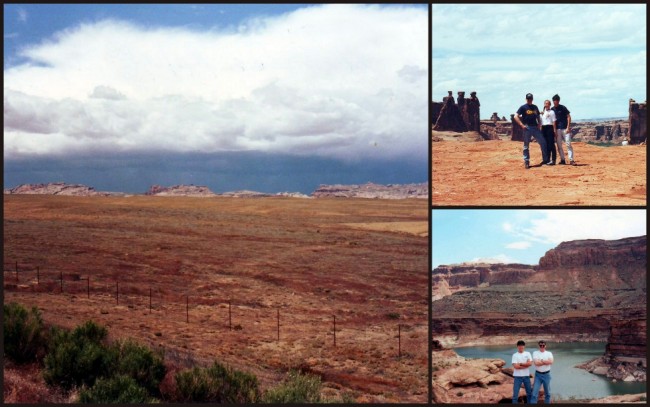 Also, be advised that there are many things you can't get inside Canyonlands including but not limited to food or gasoline.  For those you'll need to stopover in Moab, Green River, Hanksville (one of my favorite towns) or Monticello.  Per chance if you do stop in Moab and want a fantastic meal and/or brew, make sure to stop by the Moab Brewery which happens to be on my Top 10 places for good food and drink.  Jeff and I ALWAYS stopped there when we were in the area.
There is camping within the park, as well as around it on BLM (Bureau of Land Management) land.  There are multiple Visitor Centers in Canyonlands, so make sure to check them out as well. This park does charge entrance and other fees so be prepared to pay.  Lastly, as this is a true wilderness area cell phone coverage is "spotty" at best.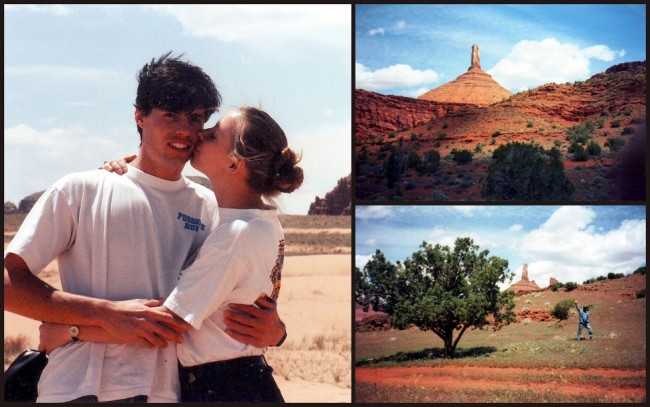 There are some really nice areas not too far away that certainly justify a visit; Hovenweep National Monument, Mesa Verde National Park, Bluff, Utah and Natural Bridges National Monument.  Canyonlands is to date still my favorite place to visit in Red Rock Country, enjoy.
Last modified on
: March 22nd 2015.