Hovenweep National Monument, Utah-Colorado
One of the great things about spending a career in the National Park Service is the fact that you learn about some of the more obscure and remote areas administered by the agency.  As my time was winding down I started looking for somewhere special to finish up with and one of my Top 10 choices to try for was the Hovenweep National Monument in extreme southeast Utah.
For the sake of full disclosure I must admit that Utah was #1 on my list of possible areas to consider due to my extensive travels with my friends the Campbell's over the last 15 years or so.  I became especially fond of Canyon Country, which is why I started looking in that area specifically.
Though I never got my "dream job" at Hovenweep, I finally got my chance to visit this remote and mysterious site in the autumn of 2012.  Jeff and I had spent the previous week checking out western Colorado and thanks to his great planning, he had a route picked out that brought us back into southern Utah, which allowed us to swing by Hovenweep and Four Corners, a great ending to our Utah Adventures.  Upon completion of this trip, Jeff and his family would relocate to Oregon.
If any place on Earth is appropriately named, it has to be Hovenweep.  The name was given to the site by the Ute and Paiute Indians and is translated to mean "deserted valley".  The name was picked up by pioneer photographer William Henry Jackson in 1874 land has carried on into modern times.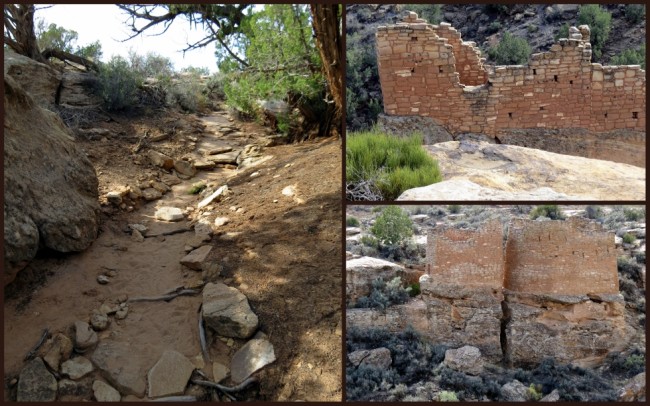 Humans have been visiting and living at Hovenweep for over 10,000 years. It all began when Nomadic Paleo-indians visited the Cajon Mesa for hunting and food gathering. Following seasonal weather patterns, they used the area for centuries.  Hovenweep became a full-time community by around 900 A.D.  It was here that they started planting and harvesting crops in the rich soil on top of the mesa.  The town grew to over 2,500 by the late 1200s.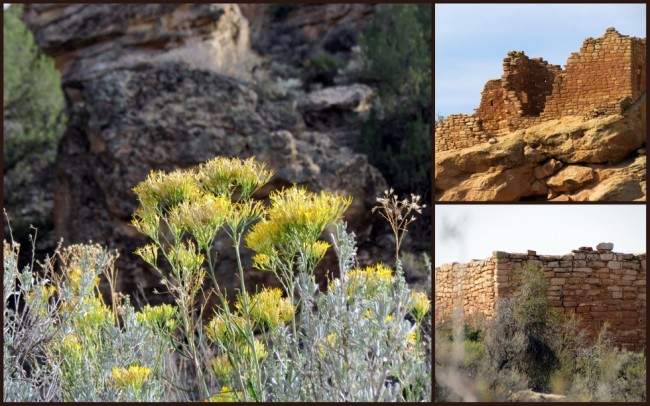 According to archaeologists, domesticated crops such as: maize (corn), squash, beans and cotton were cultivated in terraced fields.  The natives also consumed wild plants such as: sedges, ground cherry, milkweed, and wolf berry.  Not surprisingly, they also consumed sagebrush (a very dominant species in the area) as a good source for Vitamin C and iron, as well as it's ability to kill intestinal parasites.
The surrounding desert was generous in it's natural resources.  Juniper trees provided firewood and clothing-making materials.  Pinion sap was used to seal baskets and the locally-available quartz stones were used in the production of projectile points.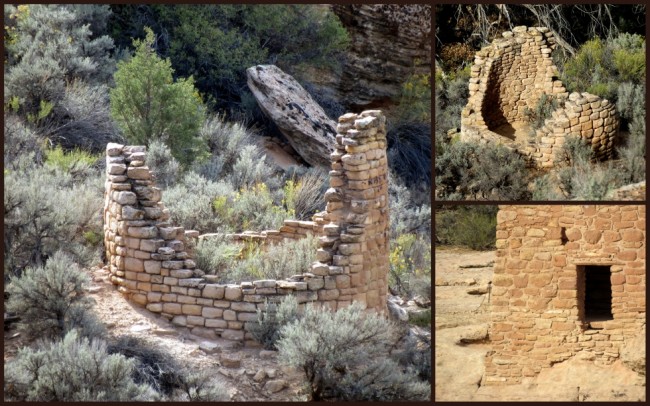 No one knows for sure why the area was abandoned, but theories lean toward climate change and over-population as the most probable reasons.  By 1350 A.D. the area was for all practical purposes void of mankind.
Today's visitor can still see the evidence of their habitation in the form of large, stone-constructed buildings dotting the plateau.  Jeff and I ended up at the Square Tower Group near the park's Visitor Center late in the afternoon and took the nearby 2-mile loop trail.  There are four other units scattered around the desert: Cutthroat Castle, Horseshoe and Hackberry, Holly and Cajun.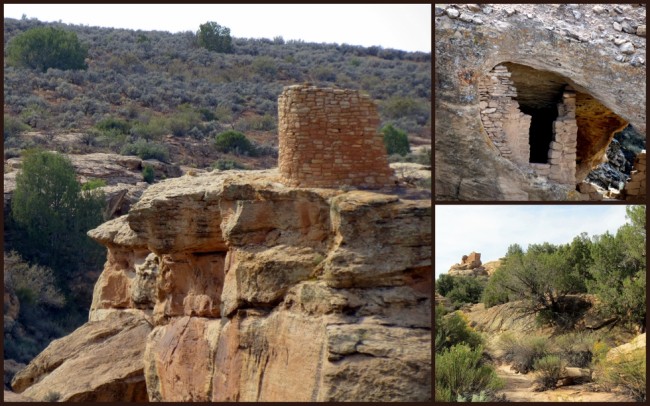 There were nearly 30 kivas (Peubloan ceremonial structures) for us to explore in our regrettably-short visit to the Square Tower Group.  Some were built into the walls, other perched on the rim of Little Ruin Canyon.  The trail drops down into the canyon then re-merges on the other side giving the visitor amazing views of this complex.  While traversing the path you see wildlife galore, countless examples of desert flora and of course the ghostly remnants of the old community.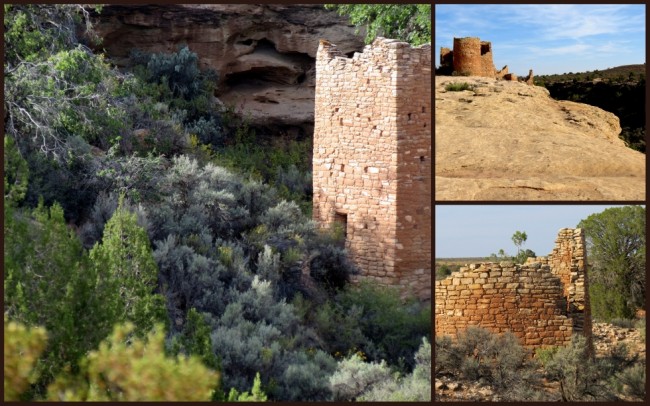 I hope to return to Hovenweep someday to explore further.  I was 100% right in my thinking that this would be a great place to spend a lot of time.  My 2-1/2 year stay at Ocmulgee National Monument in Georgia has forever piqued my interest in Native American history.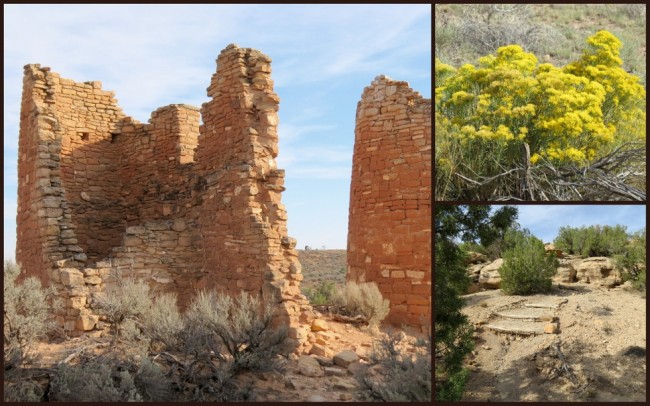 If you plan to journey to Hovenweep, here's some important information.  First, it's not close to anything, the closest town of any size is Cortez, Colorado about 42 miles away, so make sure you have plenty of gas before driving out into the desert.  The Visitor Center is open year-round (with the exception of Thanksgiving, Christmas and New Year's Day), but has varying hours of operation.  It's a good idea to check out their website at Hovenweep National Monument to get up-to-date information on when you can visit.
They also have a 31-site primitive campground which is on a first-come, first-serve basis.  Each site has a picnic table, shade shelter and fire ring.  Running water is available in the SUMMER MONTHS ONLY with a 5-gallon limit.  They do offer flush toilets and running water at the restrooms.  Though the campground is designed for tents, RV's up to 36 feet in length can be accommodated.
Short Interpretative programs are conducted Spring through Fall.  The park does charge some modest fees, with current rates on their website.
If you're in the market for an experience that takes you into extreme conditions, Hovenweep is it.  Plan to spend a few days in and around the area, explore the various units of the park, do a little stargazing while camping and immerse yourself in the ancient history of this place. I wish we'd had more time to see the wonders of this once-thriving outpost of human culture.  Perhaps I'll be fortunate enough someday to return, sit by a campfire and play my Native American (Bill Hughes) flute and perhaps hear echoes from voices long gone resounding off the canyon walls.  For me this place is simply magic.
Last modified on
: June 13th 2013.