Four Corners, USA
It's a fact that anyone visiting the Southwest has to try to do certain "high end" things; like visiting the Grand Canyon, go to Arches National Park, see the Rockies in western Colorado and lastly, trek over to the Four Corners.
This area marks the place where you can stand in four states at the same time; Utah, Arizona, New Mexico and Colorado.  In addition, it marks the boundary between two Native American tribes, the Navajo and the Ute.  The monument is operated and maintained by the Navajo Nation Parks & Recreation Department who do charge a small admission fee.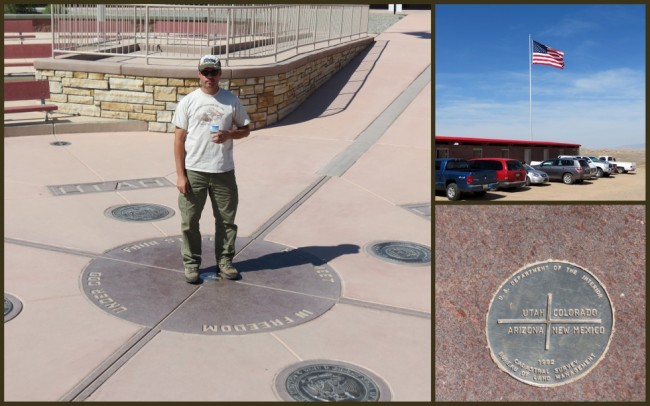 The monument is comprised of a granite disk embedded with a smaller bronze disk around the point, surrounded by smaller, appropriately located state seals and flags representing both the states and tribal nations of the area. Circling the point with two words in each state, the disk reads, "Four states here meet in freedom under God."  This sets within a beautifully-designed plaza with elevated ramps in each state to accommodate photography of visitors straddling the monument disks.
Getting to Four Corners is a trip unto itself, being fairly distant from everywhere else in the area.  You'll find it 40 miles west of Cortez, Colorado on highway 160.  Though it is somewhat remote, you'll find considerable traffic along this roadway, all going to and from the monument, which speaks volumes about how important it is to visitors to the area.
One final note, it has been stated that the current location is not accurate, this is a myth.  Based on the survey techniques of the time it has been determined that it is in fact in the right place, don't believe the rumors that it is not.  The current location is defended by the US Geological Survey.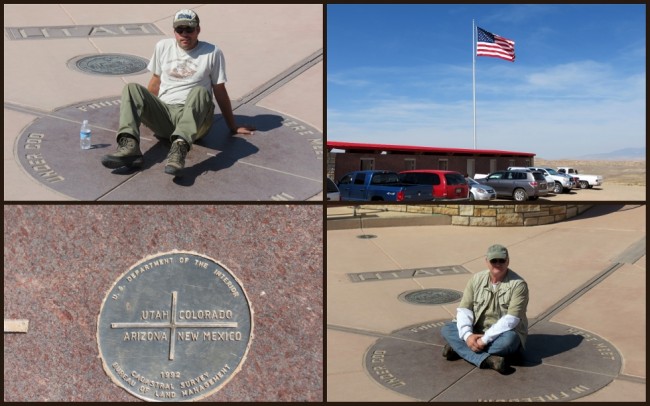 On the day Jeff and I went there it was a perfectly hot and windy day in the desert.  He had been there before, but well before the modern plaza was in place.  We did the usual tourist thing, standing, squatting and sitting atop the bronze marker, posed for the expected photos and then toured around the various booths with beautiful artisan pieces produced by the local Native Americans.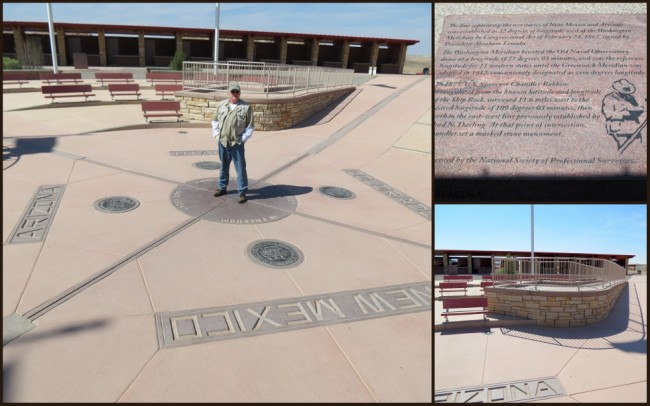 If you want more information, check out the Four Corners website.
Last modified on
: June 13th 2013.