Mellow Matt's Music & More–Bowling Green, Kentucky
Music has always been a huge part of my life, for as long back as I can remember.  I've sung in countless ensembles, played multiple instruments with varying degrees of success and of course listened to more songs than I could ever begin to count.  My love affair began as a child while listening to the very different music offered up by my parents, my Dad loving Opera & Classical and my Mom Country Music (not the stuff they call Country today, but Real Country).  My music tastes did not expand until I heard my first "rock" song, "I'm a Believer" by the Monkees.  After that, I was off and running.
It wasn't until I got into high school that I started actually buying music.  My  earliest retail buying came at a Big Box store called Rose's in nearby Elizabethtown, Kentucky.  That all changed in college when I started buying from a local record store in Bowling Green, Kentucky called "Headquarters".  From this point forward it would be all about real record shops, not just because of their much larger inventory, but because of the atmosphere in such shops.  Music was always playing and the smell of incense was everywhere.
The trend for independently-owned shops declined for a while but now I'm happy to report that the trend has recovered and lucky for me one such shop is back in Bowling Green, Mellow Matt's Music & More.  I met Matt when he worked at another record store in Bowling Green (which will go unnamed because they did him dirty) and it was actually an embarrassing experience for me.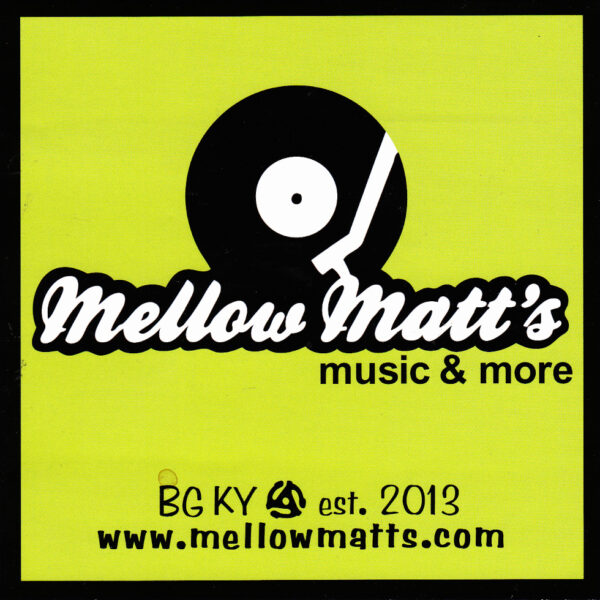 Mellow Matt was a well-known radio personality on a Classic Rock Station called D-93 (WDNS-FM).  He does a weekly show called "Dead Air" on Sunday nights (starting at 5 pm Central Time) and one week he had featured the Allman Brothers Band, during the first hour of the program.  As they are my all-time favorite Southern Rock band I was thrilled.  So, the next day I went to the unnamed music store in search of some of their music.  I ran into this guy and started ranting and raving about what a genius Mellow Matt was, and how I was totally overwhelmed with his show the night before.  I went on to mention my decades in broadcasting and told this guy in no uncertain terms that Mellow Matt was the best DJ ever.  This guy's response "thank you".  Yup, it was Mellow Matt himself.  After getting over my embarrassment, we became friends and continue to be so to this day.
After the poor treatment from the unnamed music store, Matt left and opened up his own shop and continues to be my favorite record store now.  Not only does he carry an impressive assortment of albums and CD's, he also carries vintage audio equipment to play them on.  In addition, he carries a huge selection of paraphernalia all related to music, and much of it is rare and very hard to find.
He is the King of Incense in Bowling Green and in the last few years we now have an arrangement where I provide him with custom-made music-related key ring/lanyard racks that he sells in the store.  I get store credit (basically keeping me in incense, a mainstay in my workshop) and once in a while I'll get a CD as well.  It's a wonderful arrangement for me.  I'm proud to report that his customers like the racks too, which makes me very happy, being associated on a professional level with my favorite record store.
He is located in the Twin Oaks Shopping Center at 1200 Smallhouse Road, open Monday through Saturday and frequently sponsors special music events at his location.  You can call him at (270) 780-0068 if you need him to find you some hard-to-get music or other rock-related items.  He's got a website too that you can check out.  He is also on Facebook if that's your thing.
I love going to Mellow Matt's because there's always something new to check out.  He's wonderful to his customers and I'm happy to report is still on D-93 with "Dead Air".   By the way, the radio station streams his program so no matter where you live you can check it out.  The first hour is always a surprise (can be about anything) and the second hour is always a live track from a Grateful Dead concert somewhere, many time rare and almost impossible recordings to find.  But, he does find a way to get them for the listeners.  If you're in Bowling Green, make a point to go by and say "hi".
Last modified on
: November 25th 2021.