Yellow Fork Canyon, Utah
Image this, living in a place where you walk out your front door and have a billion dollar view of an awesome valley with the backdrop of the Wasatch Range, and a mountain in your backyard with access to miles of trails mere moments away.  Such is the dilemma my friends, the Campbell's had.
For many years they had lived in the Sugar House area of Salt Lake City but finally broke out and bought a home in the rural community of Herriman.  Their house sat on the north slope of Step Mountain and from their deck you have an incredible view of the lights of the city after dark.  One added benefit was that you could see storm fronts rolling in with a view that couldn't be beat.  I'm sad to report that their home was lost to a wildfire in 2013, forcing their relocation to Oregon, which is another story in and of itself.
As a rule I try to take some "warm up" hikes when first arriving in Utah.  There are two reasons for this; first to help acclimate to the higher altitude and secondly for conditioning.  Let's face it; hiking in central Kentucky is not the same as hiking on steep mountain slopes.  On a recent trip my first hike of the vacation found us (Me, Jeff, Rachelle & baby Aleutia along with their black Lab, Jesse) on a trail winding up the Yellow Fork Trail in Rose Canyon in the Oquirrh Range.
As is often the case in the autumn of the year, the weather was perfect.  Our adventure began with a short drive up to the trailhead, just a few miles away.  Our hike actually began on a road bed, which was fine with me.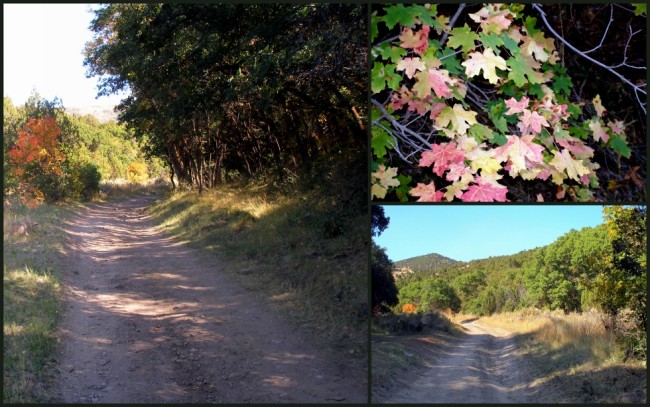 The trail, in its entirety is about 9 miles long and a favorite among horseback riders.  We were fortunate to see only a single rider the morning we went in for our hike.  This primarily single-track trail (with some fire road) winds in and out of an oak  forest, with very nice views of the Wasatch Front and Kennecott Copper Mine.  Much of this trail lies on the North Slope which means you'll need to hike either in the summer or autumn due to seasonly wet trail conditions.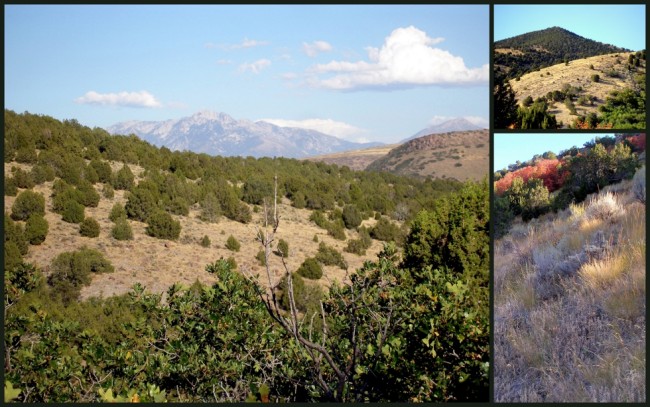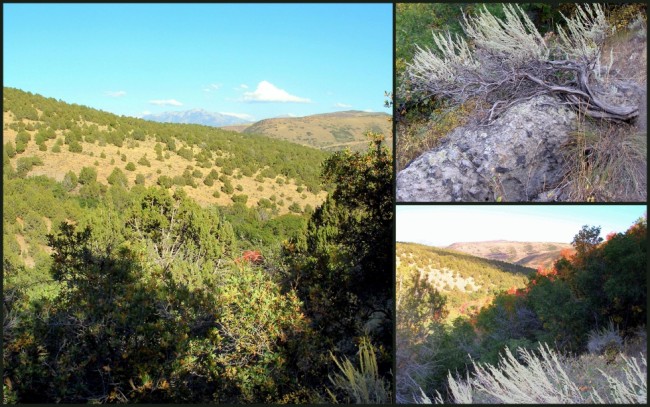 This trail is a naturalists dream; on the wildlife side you may see wild turkeys, squirrels, rabbits and deer.  The canopy primarily consists of oaks and maples with various conifers thrown in for good measure.  At ground level you'll enjoy Dwarf waterleaf, various grasses, rabbit brush and water fawn lily.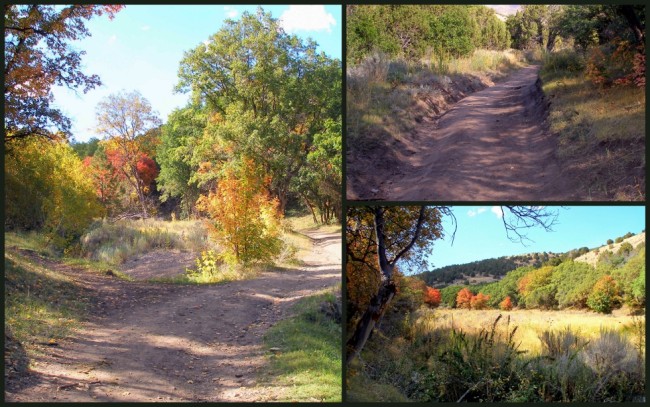 The hike itself was a mix & match of trail conditions and flora, making for a fun and relaxing experience.  Some of the scenery was gnarly and primitive while other sections were very scenic.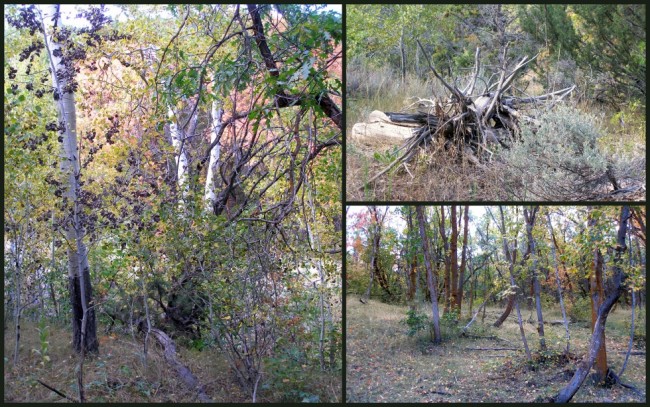 Though this is by no means a major trail, it's well worth taking.  If you're looking for a fairly easy, non-technical trek, Yellow Fork fits the bill.
The hike back to the truck brought us back into brilliant fall colors, a wonderful way to finish out our hike.  The warm autumn air, the breeze and the company I was keeping made for a perfect Utah morning excursion.  Even though my friends now live in the Pacific Northwest, I'm very happy to have this memory to enjoy and relive in my mind.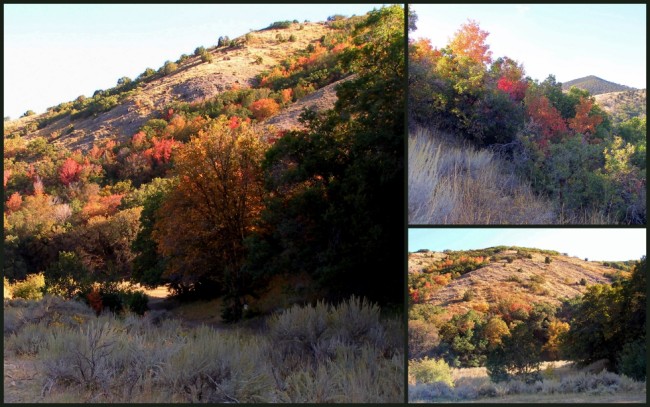 Last modified on
: February 6th 2015.