Wilson Arch, Utah
One of the greatest joys in traveling without a finite plan is the occasional discovery of something amazing. Such was the case on a trip to Utah when my friend Jeff and I came across a monstrous formation called Wilson Arch.
We were en route to Moab for a much-deserved meal at the Moab Brewery for a world-class lunch (which we did have, and thoroughly enjoyed), when out of nowhere a huge natural arch came into view.
Located on US-191, just south of La Sal Junction (24 miles south of Moab), Wilson Arch soars above the highway nearly five stories. The span is an impressive 91 feet. We pulled off at the parking area and began our climb upward (Jeff of course making the climb in a sprint) while I meandered up the trail in my typical tortoise manner). From underneath the arch we could study the landscape for miles in all directions.
The arch is named after a local pioneer (Joe Wilson) who owned a cabin in nearby Dry Valley.
Geologically, the formation is known as Entrada. Over the eons, surface cracks, folds and joints were filled with water. Weathering forces over time enlarged these openings, forcing the sandstone to peel off, leaving behind free-standing "fins". This was the "beginning of the end" for the fins. Time and erosion continued their assault on the formations, forcing the complete destruction of many. While many met their doom, Wilson's composition was hard enough to withstand the attack, even with the middle section gone.
One thing that makes this truly mind-boggling is the fact that Wilson doesn't even rate as terribly significant in the "big picture" of Utah. That single detail speaks volumes about the vast geological treasures of this state.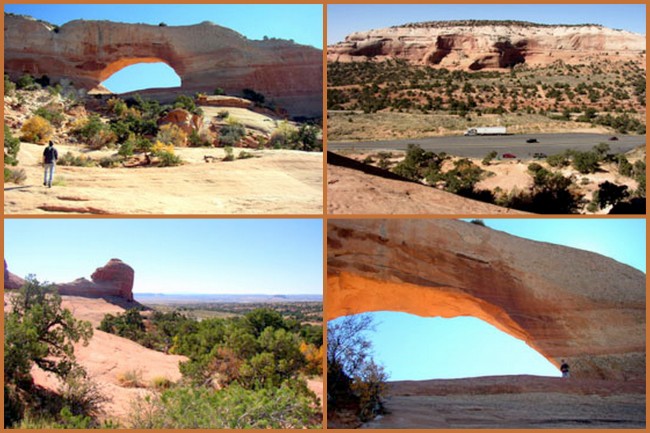 Last modified on
: June 15th 2013.