San Rafael River, Utah
One of the many awesome things about the state of Utah is that it is the perfect all-season playground.  Summertime brings with it access to some of the best high-country hiking in North America, followed by brilliant fall colors just waiting for the outdoor enthusiast to enjoy.  Winter of course invites you into the Wild with world-class skiing, snow shoeing and snowboarding.
With all that in mind Springtime draws you outdoors with a plethora of recreational opportunities, not the least of which is rafting and canoeing.  The Colorado River is well known for this as is the Green River.  Yet another awesome doorway into the backcountry is the lesser-known San Rafael River in east central Utah.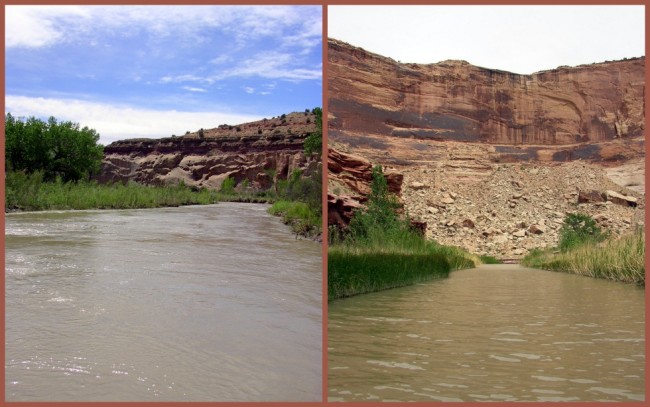 The San Rafael rises in northwestern Emery county about five miles from Castle Dale, travels through countless breath-taking gorges eventually draining into the Green River near the town of the same name.  This 90-mile stretch flows through a sparsely populated portion of the Colorado Plateau and if traveled will give you the experience of a lifetime.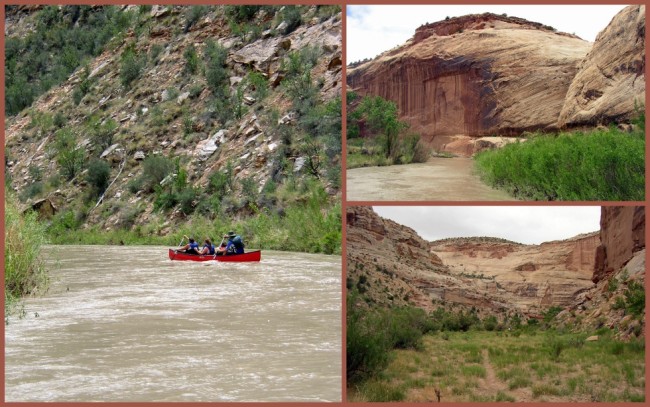 Try to imagine if you can the pure pleasure of putting in your raft, kayak or canoe and traveling through scenery that can only be believed if you see it for yourself.  The spring colors have just erupted from the tans, reds and browns of winter and provide a kaleidoscope of hues too numerous too describe.  The wildflowers, cacti and river grasses give an almost neon-bright display of color with Red Rock, Desert Varnish and tan water as the frame for your view of Mother Nature.  The cottonwoods and tamarisks add to the effect as you contrast them with the massive canyon walls.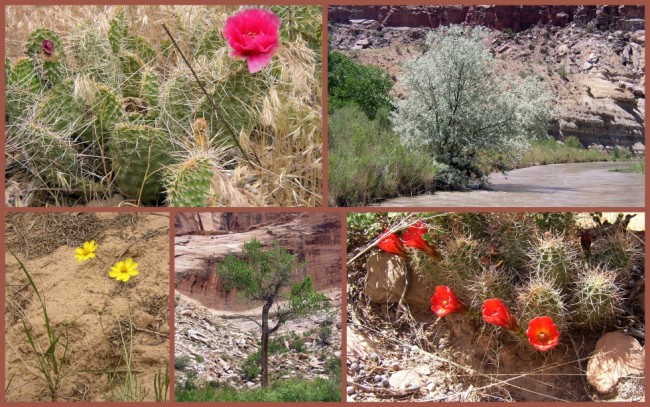 One of the most enjoyable aspects to a trip of this type is that you can take a break anytime you want by pulling ashore and taking time out for a short hike, meal or photography session.  The number of places you can camp for the night is literally impossible to count.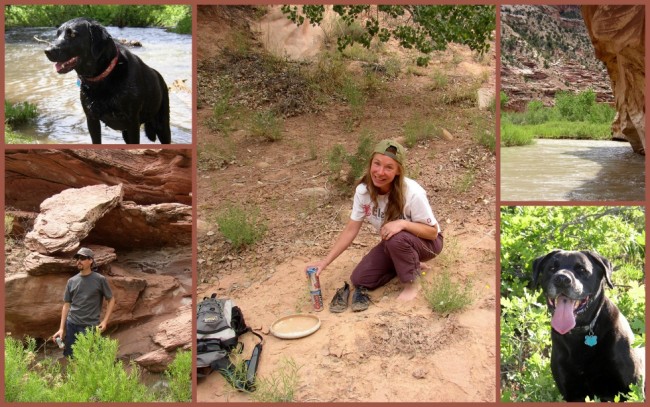 The upper 20 miles of the river are Class I to II and can be navigated by anyone who is even moderately competent in their craft.  Just below SH 10 the river escalates up to Class III and IV and requires a higher level of skill, keep this in mind while planning your trip.  If you're on a springtime excursion you'll probably notice the river to be brownish in color, this is due to the snow pack runoff making it's way from the higher altitudes down to the river drainage basin where you're at.
This is without question one of the best places to take a group of friends for a fantastic, shared experience.  Great fun can be had by pulling off onto a bank somewhere and hiking into a canyon just to see what's there.  There's a reasonable chance you'll come across some ancient artwork left by those who lived here centuries ago.  It always excites me to find these reminders of those who came before. Don't be surprised to see some folks enjoying the day on horseback as well, remember this is the Wild West.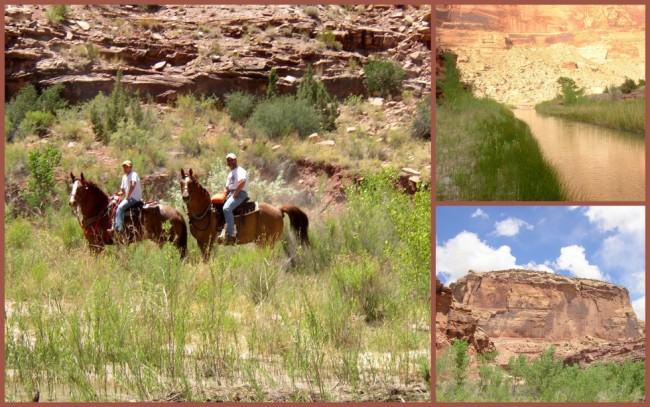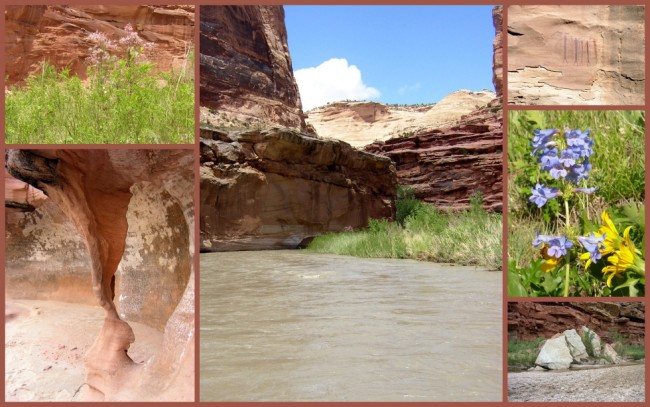 As should always be the case, exercise appropriate caution and plan ahead.  It's VERY important when traveling on rivers in canyon county to stay on top of weather conditions as things change very quickly in this topography.  A thunderstorm many miles away can initiate a flash flood where you're at.  Keep an eye on water conditions (color and flow of water) and be prepared to deal with a huge influx of water if need be.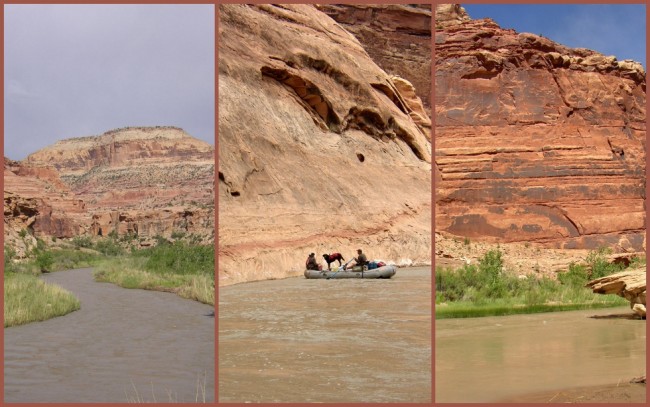 Lastly, make sure you gear is designed for water use.  You can never have too many "dry bags" on a trip like this.  A couple of changes of clothes, PFD's (Personal Floatation Devices), comfortable shoes that don't mind getting wet, sunscreen and of course whatever food and drink you want are essential to the success of your outing.  A definite "plus" are clothes that can dry off quickly.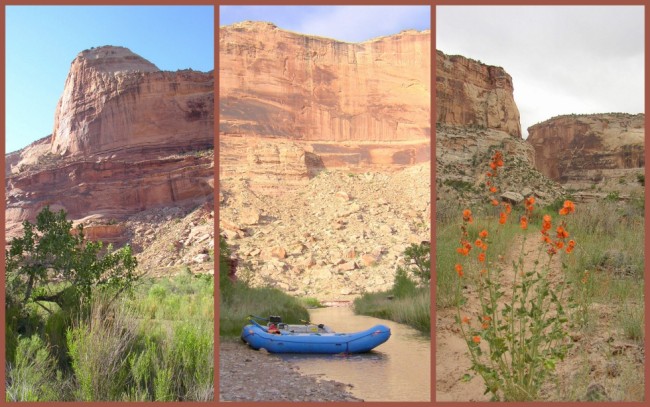 Before heading out, go online and look for use tips on the area. My favorite website is called San Rafael Country and offers a wealth of information on everything from local activities, places to rent equipment, where to eat and places to buy gas and groceries.
If you've got a few days to treat yourself to something special, head to Utah and spend some time on the San Rafael River.  This is one trip you'll cherish for a lifetime.
Last modified on
: March 10th 2015.