Oregon Caves National Monument, Oregon
I'm pretty sure that when most folks open up this Travel Log they'll be surprised to find out that nothing in it has anything to do with the caves. In years past I would have certainly availed myself of the opportunity to tour a cave but now that I have chronic vertigo, I'm out of luck on cave tours. While working at Mammoth Cave National Park, out of nowhere I was struck violently with this disorder, which unfortunately has never completely gone away. I find it most it difficult to deal with low light levels such as a cave environment. Every since that day I've stayed out of caves, probably forever now. It does sadden me that because of this my buddy Jeff has been staying out of caves when we visit together. I hate depriving him of the enjoyment of cave tours but he won't abandon me when we're visiting together. How ironic, we met and became friends on a cave tour.
With that in mind, it doesn't mean that I can't visit cave sites and so is the story on Oregon Caves National Monument. Jeff and I took a day out of my first visit to him in Oregon to head over to the monument to "check it out". This site was declared a National Monument by President William H. Taft in 1909. A side note: if you're wanting to visit NPS areas without huge crowds, National Monuments are the way to go; great places with much smaller crowds. I've been to a bunch of them and they're always quieter and more serene.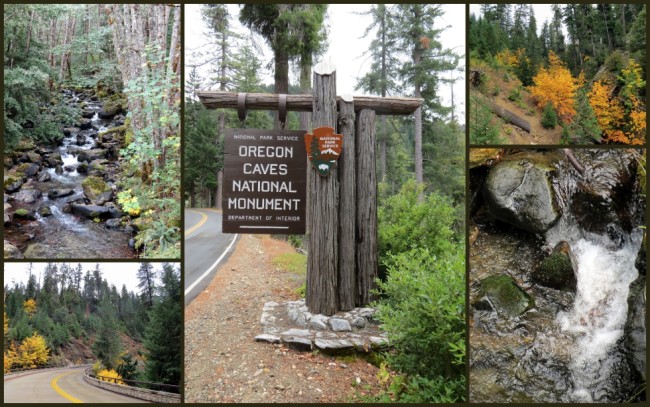 It was a slightly rainy, overcast and beautiful autumn day. The Fall colors were incredible and the smell over the evergreens wonderful as we walked up the road from the parking lot toward the Visitor Center. Unlike the topography of Kentucky's cave region, Oregon Caves National Monument is home to a number of surface streams. vs. the Karst topography of my state. Where central Kentucky is riddled with countless sinkholes the scene in Oregon is quite different with surface water everywhere, a huge contrast from my Cave Country.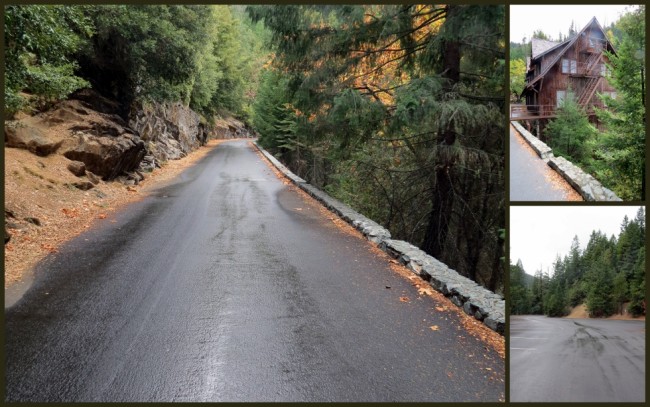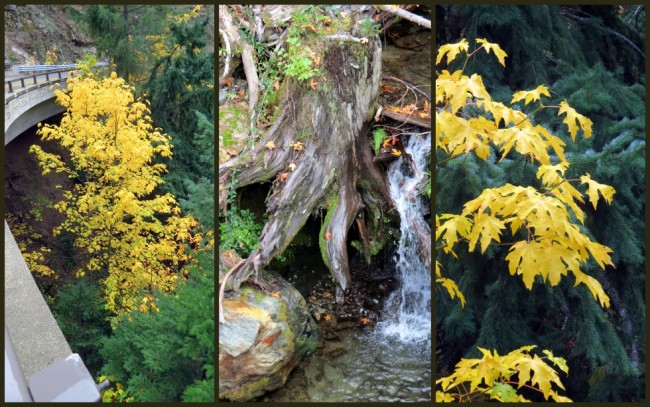 After a short stopover in the V.C. (Jeff calls them V.I.C.'s, short for Visitor Information Centers) we headed out and upwards on the Cliff Nature Trail, which took us right by one of the cave entrances. The caves themselves are "solutional" meaning they were created by chemical actions vs. erossional processes. The passages are about 15,000 feet in total length (slightly under 3 miles) and are formed in marble. In contrast, Mammoth Cave is formed in limestone with a sandstone cap rock, and to date has over 400 miles of surveyed passageways.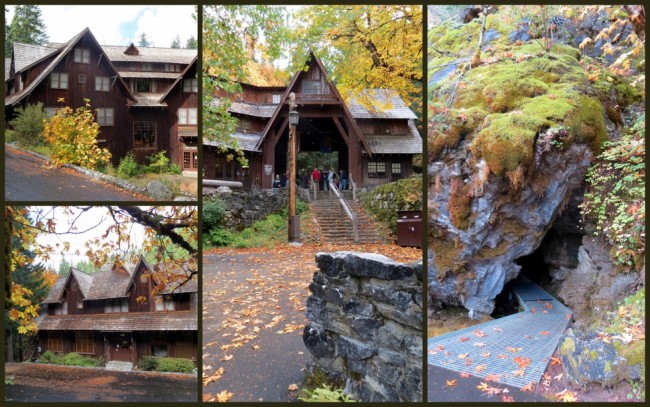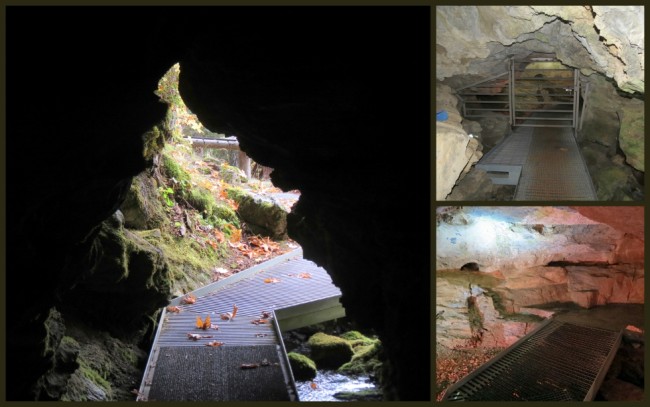 The trail began with a fairly steep paved portion that took us up and up to an elevation which gave us beautiful views of the Siskiyou Mountains. One thing I greatly appreciated was the number of interpretative exhibits along the way, giving the visitor a good insight to the wonder around them; geological information, relationship between the surface and cave system, seasonal changes in the mountains and good maps.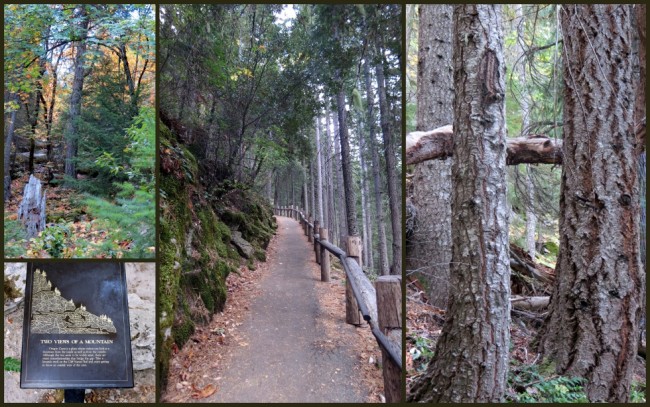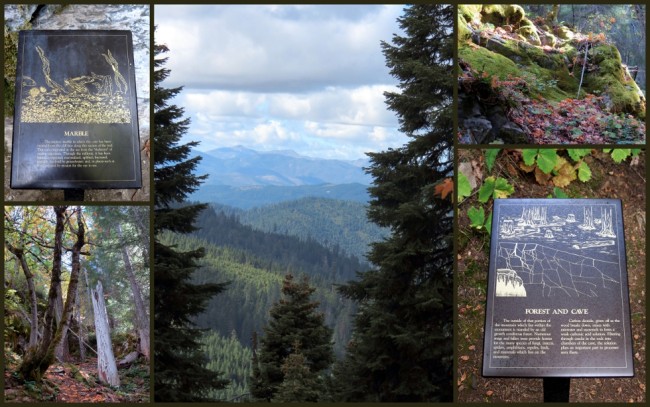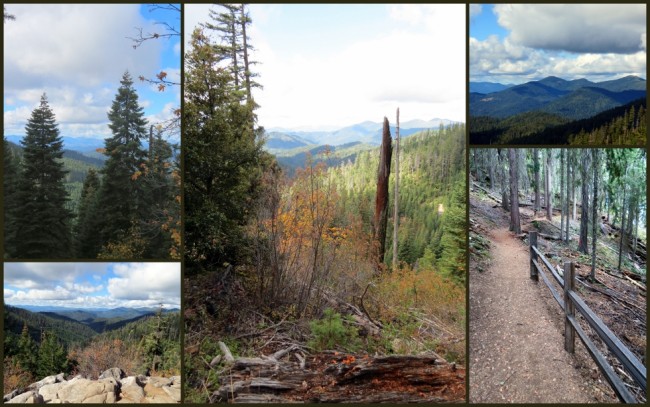 Visitors to Oregon Caves have an abundance of outdoor activities to choose from: hiking, camping, photography and of course wildlife viewing. During the summer months you can enjoy a Ranger-led tour of an old hotel named The Chateau. The beautiful structure is covered with local cedar bark and is spectacular by any definition. It was of course closed when we rolled in there in October, maybe another time.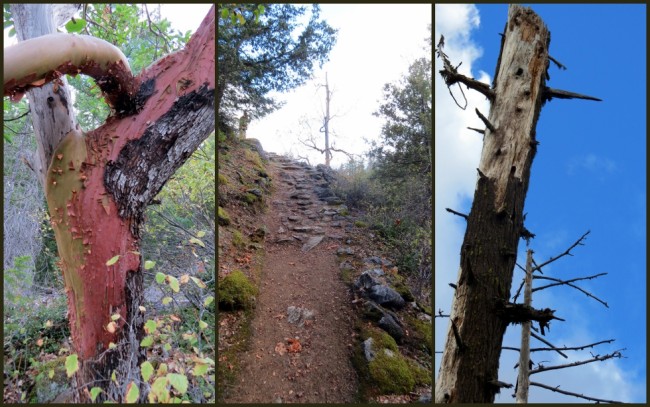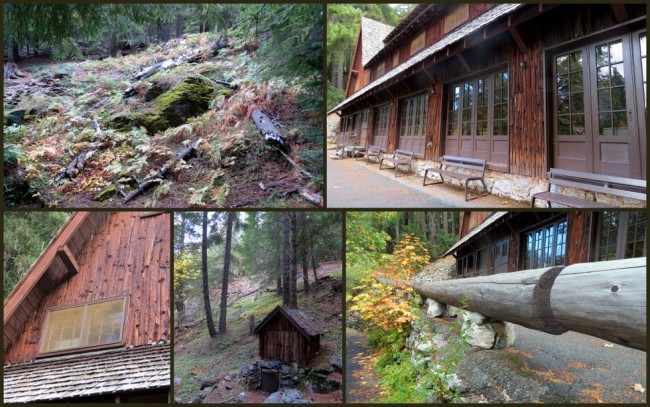 Like pretty much every cave site in the world you do have to pay to take cave tours.   They also offer special tours such as the Candlelight Tour (Memorial through Labor Days) and Off-Trail Tours (June – September).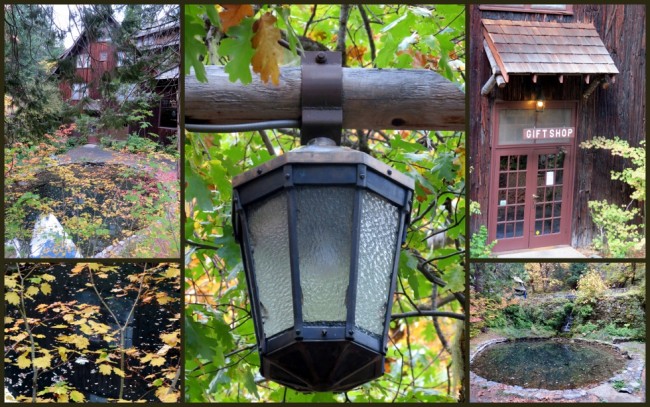 As is the case with many National Park sites we can thank the C.C.C. (Civilian Conservation Corps) for making this Monument more accessible and enjoyable for today's visitor. They worked from 1934 through 1941 making improvements both inside and outside the caves. Inside the cave they made trail improvements, removed "headache" rocks (known as OSHA rocks at Mammoth Cave for what visitors say upon impacting them, though it's not "exactly" OSHA in verbiage), and added stairs for easier access. On the outside they handles numerous project including but not limited to: campground improvements, telephone line installations, road repairs and much, much more.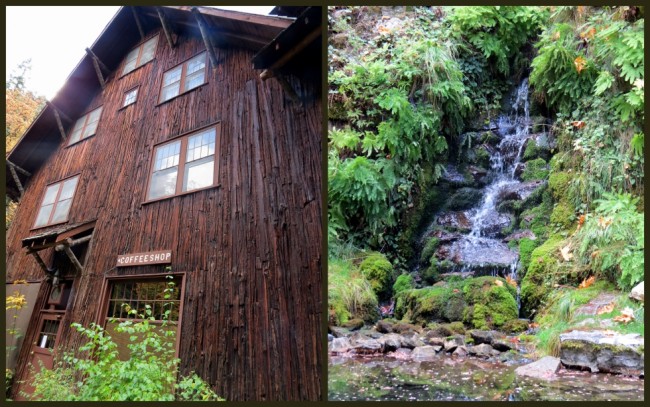 One important thing to know about touring Oregon Caves is that they sometimes have trouble with their phone system and as such cannot always accept credit/debit cards. This is one NPS area where you really need to carry cash to have everything available to you all the time. If you're planning to head over to Oregon Caves, make sure to check their website for up-to-date information and current news on the site.
Last modified on
: August 10th 2015.