Island in Time Trail, Oregon
I've always felt that I had the spirit of an explorer if not the opportunity or physical prowess to be a great one. Even so I have been blessed to visit many interesting and diverse places, some more difficult than others.  One of the great draws for me is the scenery, always looking for that new place that has a whole different look to it.
On a trip to John Day Fossil Beds National Monument in east central Oregon my search was rewarded with an amazing place that looked almost extraterrestrial, or how I imagine some alien planet to look.  As I've always been a fan of space exploration since my youngest days watching the Gemini and Apollo missions on TV (sometimes black & white) this was a real treat for me.  Like most young people of the 1960s and 1970s I too dreamed of being an astronaut and seeing new worlds.  My interest spilled over into Science Fiction of which I've been a lifelong fan as well.
After leaving the visitor center at John Day my friend Jeff and I rolled over to a section of the park called The Blue Basin, this on the advice of the Park Ranger inside. Just driving along the highway doesn't even give you a hint of what's to come with the pretty and tame agricultural landscape you're traveling through, but just moments on the trail and you're in a totally different world, so to speak.
There are two trails; the longer Overlook Trail, which we didn't have time to hike and the Island in Time Trail, which we did.  Our trail was a short, but impressive 1-mile in and out trek through some of the strangest colored rocks you'll find anywhere.  Some were literally light blue-green, the same shade that you'll find on tree fungi.  According to geologists the blue deposits are volcanic ash that has changed to claystone.  The other hues you'll see are the result of other minerals that have leached the into the soil.  This is indeed a very colorful and interesting place.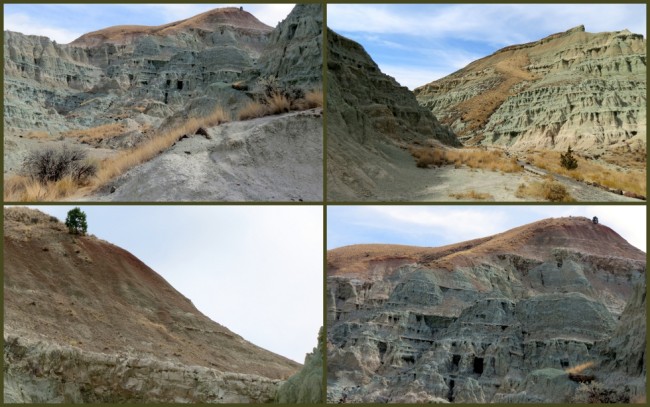 Even though you're clearly walking in a desert environment accentuated by Rabbit Brush and other plants found in the driest of places, the influence and history of flowing water here cannot be denied by the evidence of solution pockets and scallops in the layers of rock. The wind too has taken it's toll on the scenery.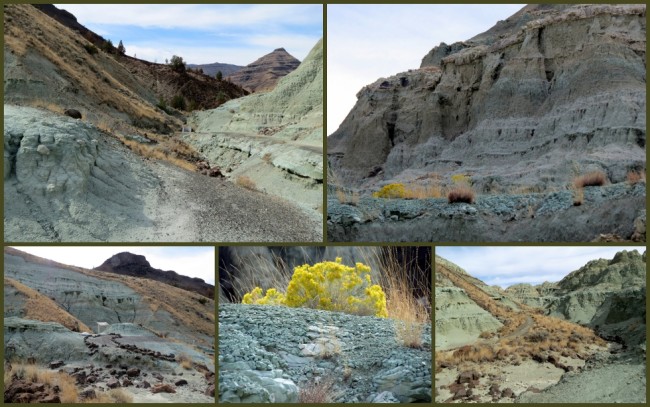 This was a very pleasant walk with resting benches along the way. What made this a unique hike was the prevalence of multiple steel bridges spanning deep trenches along the route, making for a fairly easy stroll through the area.  Also found along the way were multiple interpretative exhibits of fossils with signs to explain what you were looking at, very nice and educational.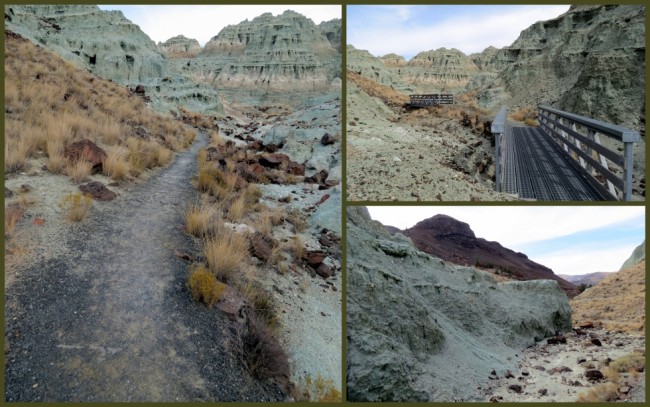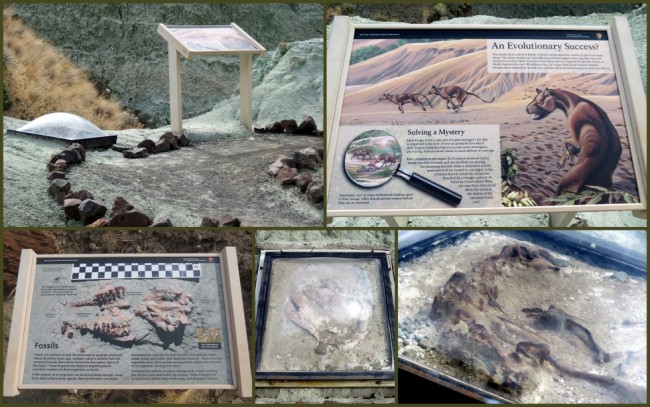 One of the more interesting aspects of our hike was the dramatic change in appearance from cloudy lighting to direct sunlight. On the way in it was overcast and though the terrain was very interesting on the way out with sunshine the look went from interesting to amazing.  If you get to hike this place try to do it on a sunny day.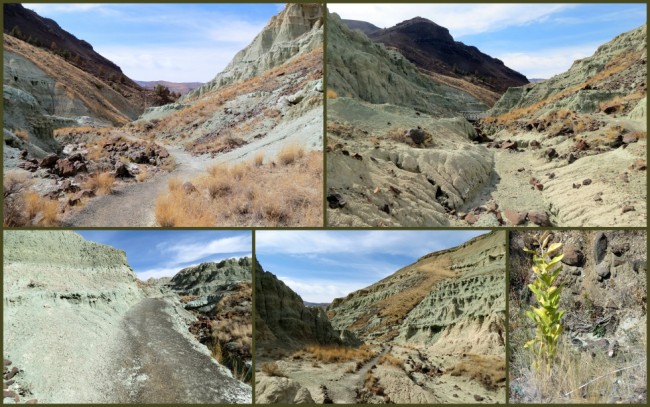 By the way, if you're looking for dinosaur fossils here you'll be sorely disappointed. The reason being is that this area was under water at the time of the dinosaurs.  You will however see countless fossils of other plants an animals that lived between 44 and 7 million years ago, the Age of the Mammals.
If you want to check out either of these trails they're easy to get to; just a few feet off of highway 19 near Kimberly, Oregon.  You'll find a restroom and picnic table at the trailhead and the John Day River right across the highway from the parking lot.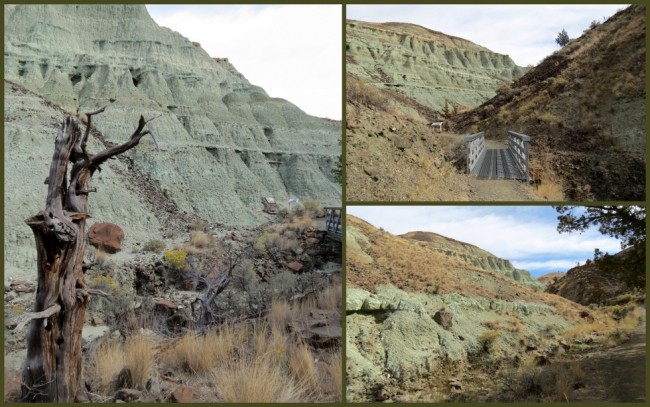 There are a few important things to know before heading over to Blue Basin.  First, collecting of fossils is prohibited, as is digging for them.  Secondly, there is no cell service within the Monument.  Your GPS's estimation of how long it'll take to get there will be off quite a bit as the winding roads slow you down significantly, therefore you need to allow yourself more time than you think.  Lastly, as Oregon is a full-service only state you cannot pump your own gasoline anywhere so make sure to fill up before business hours come to a close for the day.  Fuel is not located within John Day, but is found in several surrounding communities.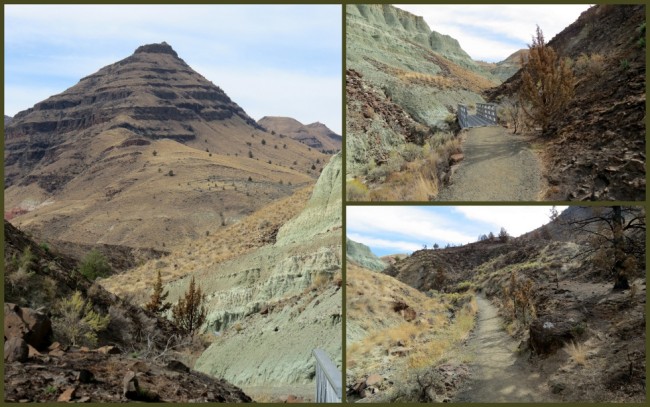 As is always a good idea, check out the John Day website before heading out, you never know what you'll learn that you need.  This is most certainly an area that needs more exploration, and hopefully on a future trip we will.
Last modified on
: February 10th 2016.