Green River Bluffs Trail, Kentucky
I kind of feel sorry for anybody who has to live in a big city as most of them don't have access to any really nice places to "get away from it all". Having worked for 30 years in the National Park Service I have seen literally hundreds of thousands of people (if not millions) escaping the big metro areas to come out to places that are quieter, more beautiful and offer a place to just slow down.  This is not a condemnation of big cities, some which I really enjoy, just an observation.
In the eastern US, neither Nashville, Tennessee nor Louisville, Kentucky have great wilderness areas close-by, but right between them is Mammoth Cave National Park with over 52,000 acres that does offer some outdoor adventures.
With that in mind, one of my favorite front country trails is close to the park's Visitor Center, with it's trailhead in the main picnic area. It's called the Green River Bluffs Trail and this one offers a very nice stroll through a hardwood forest which changes dramatically from season to season.  To me at least, the springtime offers the best hiking of the year, with Fall being a very close second.  On this specific hike I was treated to the sounds of wild turkeys way down in the river valley "gobbling" loudly.  I had to be at least a half mile away in straight-line distance but the noise was almost deafening.  That was the first time I'd experienced this at Mammoth Cave, ever.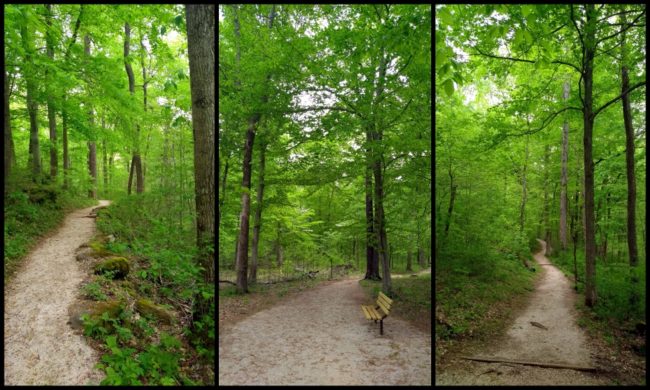 This 2.4 mile loop trail will let you cruise through a dense forest with all kinds of vegetation around you: trees, ferns, wildflowers and tons and tons of lichens and moss along rock races and boulders lying alongside the trail. Out West they call these "erratics" and I suspect that the large boulders you see on the trail here are pretty much the same geologically, large rocks that have broken off and rolled downhill away from their point of origin.  Whatever the case, it does make for some interesting sight seeing.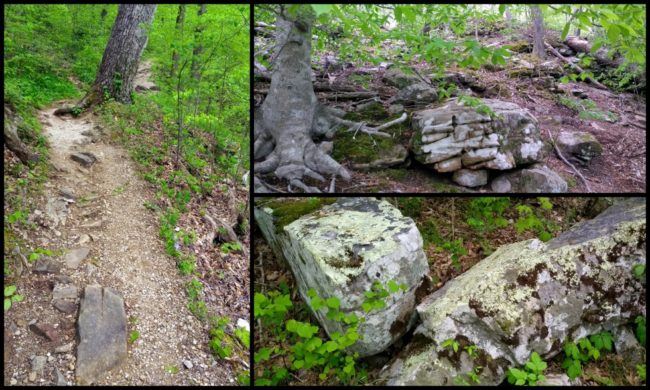 One thing you'll notice about all the trails at Mammoth Cave is that there is an incredible number of downed trees along the way. Kentucky is home to some pretty extreme weather and insect activity, which in the process damages all the forests in the state.  We've had massive ice storms, tornados and straight-line winds at high velocity and thunderstorms which can rival storms anywhere else on Earth and of course, insects eating away at the trees.  The result is a thick carpet of downed vegetation which changes constantly.  The Park Service does a pretty good job keeping the trails clear, but it's a lot to keep up with.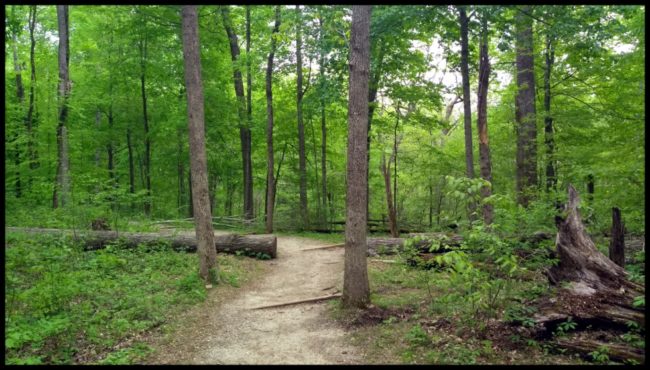 On my late-April hike I found one tree down on the trail, but only one. I of course reported the tree to the Roads & Trails Foreman and am sure it'll be taken care of quickly.  The Green River Bluff Trail as promised in the name eventually takes you to a nice overlook where you can see a section of the river made famous by John Prine's "Paradise" song.  The trail is primarily gravel but also traverses over rock slabs and some dirt.  You need to pay attention on this one as there are a couple of places that if you take a wrong step you can roll down a steep embankment and end up hundreds of feet below, which of course would not be a good thing.  The exposure is minimal, but still there, so be careful.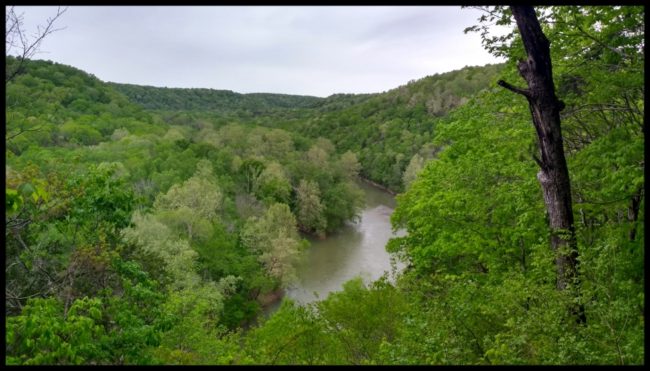 Near the end of the hike you'll get to see the Dixon Cave entrance from a viewing platform.  This used to be an entrance to Mammoth Cave, but a collapse around one million years ago created what is called a "truncation" which cut off the Dixon Cave opening from the current Natural Entrance used by tours today.  When the sinkhole was formed, one cave became two.  This is a protected bat sanctuary area and as such tours are not allowed to go into Dixon Cave.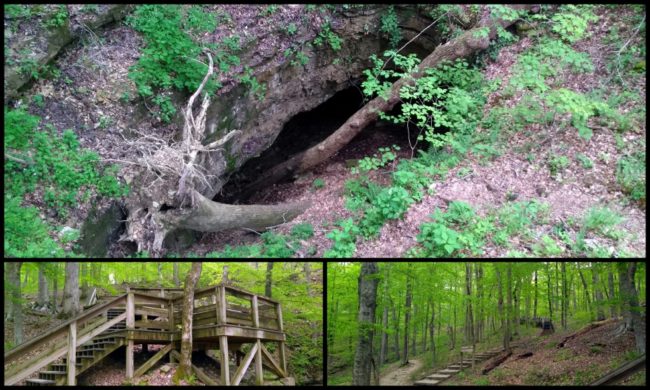 If you decide to do the hike, use some common sense rules to make sure your hike is safe and enjoyable. First, and foremost on any hike in Kentucky make sure to use insect repellent that contains DEET.  The tick population is huge here and we have had confirmed cases of Lyme Disease and Rocky Mountain Spotted Tick Fever.  Carry a bottle or canteen of water with you because even at only 2.4 miles, you can develop dehydration on a mildly warm day.  Wear good footwear, not flip-flops or non-trail sandals.  I always wear good quality hiking boots, period.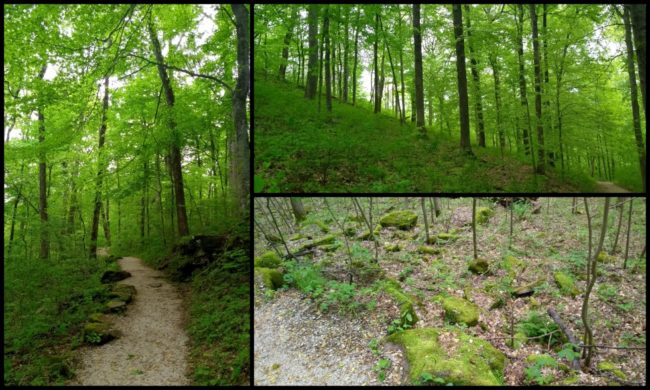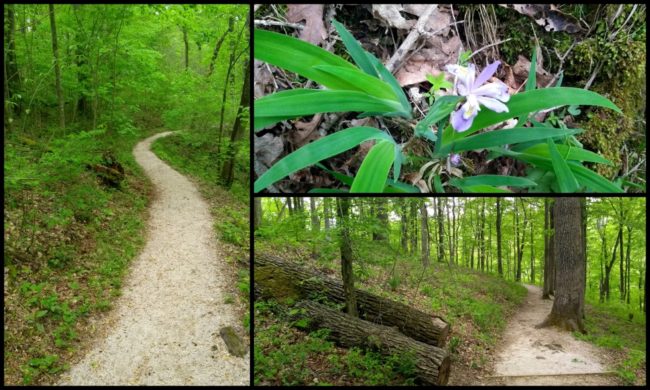 Though almost everybody comes to the park to see The Cave, don't short change your visit by doing only that. Those of us who worked at Mammoth always talked about how there were two parks in one.  A park below and the park above, each with their own beauty.  One last thing to mention about this trail is that there are split-offs that can let you explore more areas in and around the Green River basin.  You can go by both the Echo River Spring and the River Styx Spring if you want to.  If you do these as well, you add quite a bit of distance to your hike, so plan accordingly.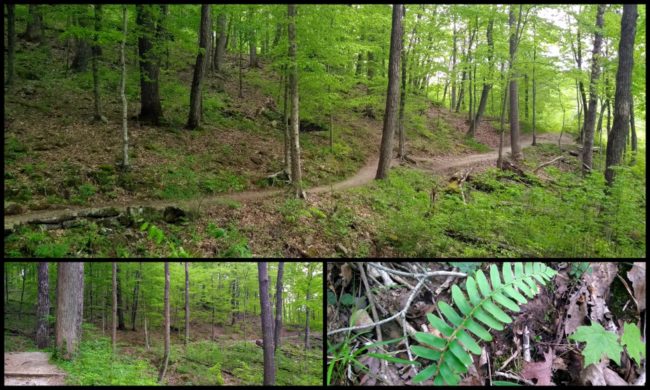 Last modified on
: April 29th 2019.