Dinosaur National Monument, Utah-Colorado
This is an updated Travel Log, from one of my earliest Western excursions.  This trip pre-dates my digital photography era, sorry about the not-too-impressive image quality.  The only really good thing about these photos is the fact that I hadn't gone gray yet, very cool.
Nowhere on Earth will grab your attention and spark your imagination more than Dinosaur National Monument, located on the state boundary of Utah and Colorado. At 210,278 acres, this park offers some of the most incredible scenery to be found anywhere in the world. You'll find breathtaking vistas, rugged mountains, massive canyons, mile after mile of remote, wandering roadways and of course dinosaur bones.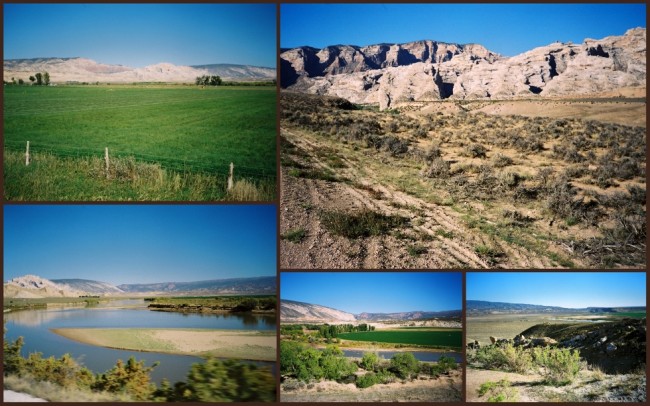 The biggest draw to this site is the Dinosaur Quarry, located about seven miles north of Jensen, Utah. Within its air-hanger styled visitor center you can see an active archaeological dig. 1,500 dinosaur bones are on display for your viewing pleasure and photo posing. It's not everywhere that you can have your picture taken with an actual dinosaur bone!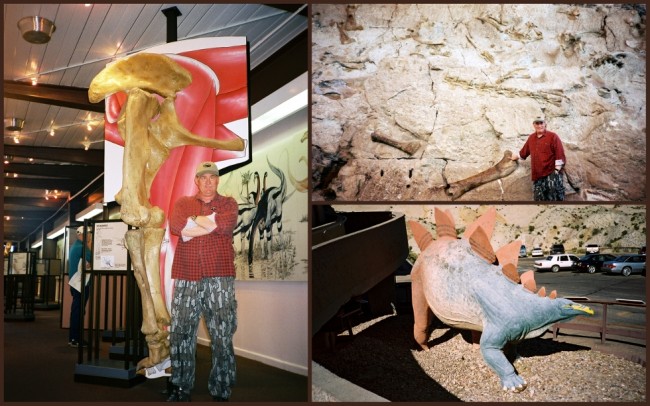 There are countless recreational opportunities at Dinosaur so you'll need to visit the site for yourself to get a complete taste of this rugged and beautiful area. As a tease however, make sure to try out some river rafting, hikes, auto touring and of course fantastic backcountry camping.
On the way down to our campground we found an old homestead, right in the middle of nowhere.  It was called the Rial Chew Ranch Historic District and was comprised of a ranching operation that existed from 1900 to 1949. The Chew family established the ranch in 1900, and operated it as a park inholding after the national monument was established in 1919. If you get to visit, you'll find a house, a cabin, corrals, root cellar, and several storage buildings. It is thought that the cabin may have been built at Blue Mountain by Harry Chew, and moved to the present site by Jack Chew, Rial's father. The ranch was occupied by the Chew family under a special use permit until the early 1970s, when the permit expired.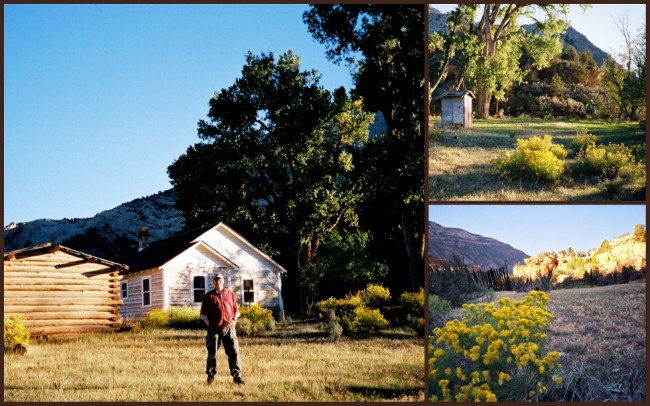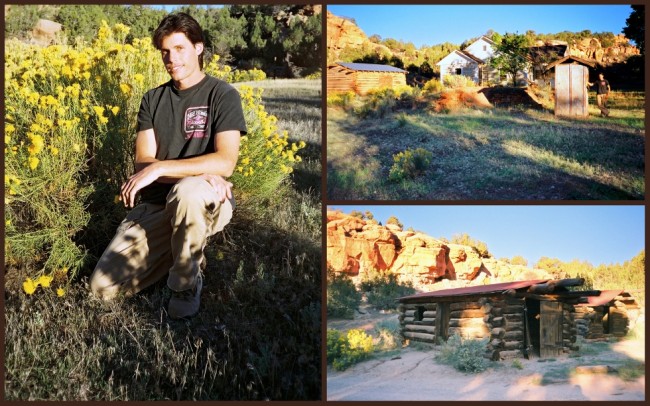 A note of caution, the road into Echo Park can be extremely dangerous for the unprepared. RV's and trailers are not recommended. We were in a 4 x 4 pickup truck with good ground clearance and an excellent driver (Jeff), and it was still "hairy" going in.  The Park Service suggests that you only attempt this road in a     4 x 4, and that is very good advice.
My friend Jeff and I decided to get away from the crowds (such as they were) and camp at the Echo Park campground (22 sites, with one handicap accessible), located 38 miles from Park Headquarters. Though the campground is open year round, water is only available from mid-May through late September during which time the park does charge a fee for camping.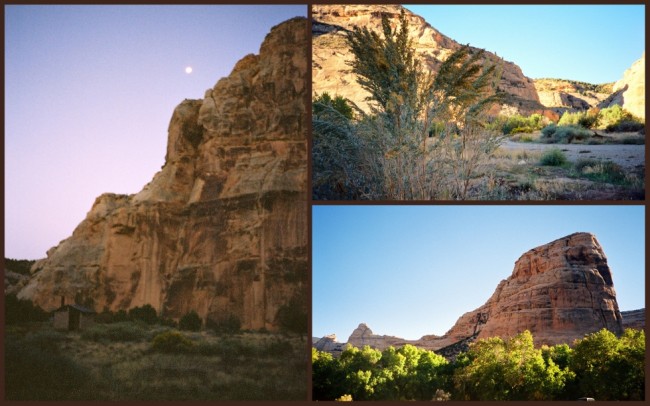 We arrived there just before sunset, set camp and began cooking our traditional, hardy supper of beef with macaroni & cheese. Our meal had a little added excitement when we went back for seconds; mice had infiltrated our dining area and were making themselves at home as they ate what was left of our food, right out of the uncovered pot. Lesson for the day, always cover your food while camping in the wild.
The recent campfire ban had just been lifted so we were able to have a small fire to end the day. As the sun set, temperature dropped and we settled in for the night we both commented on what a "perfect" campground it was. Imagine if you will, massive sandstone cliffs on all sides, lush cottonwood trees surrounding our tents and the sound of a nearby river. It doesn't get any better than Echo Park. As it was late in the season, there were only a couple of other sites occupied and all the other campers were respectful of each other.
In addition to the splendid scenery, you can experience early Native American art as petroglyphs can be found at the Chew Ranch. You'll pass through two beautiful canyons, ending up near the confluence of the Green and Yampa rivers.  While exploring around Echo Park the following morning we found an awesome little Ranger cabin, powered by solar panels.  I thought it would be the perfect place to spend a summer as a seasonal Park Ranger.  We also ran into some very nice folks riding their horses in the area.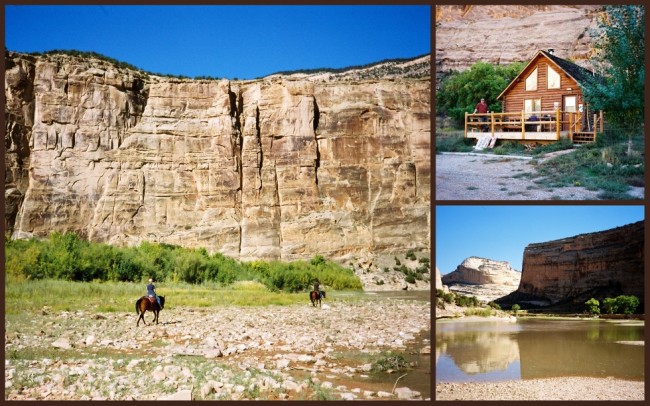 After breaking camp we headed out climbing out of the river valley un into some incredible hills, which had recently been overrun by wildfires.  The damage was humbling to behold.  We stopped at a huge overlook, saying out goodbyes to Dinosaur.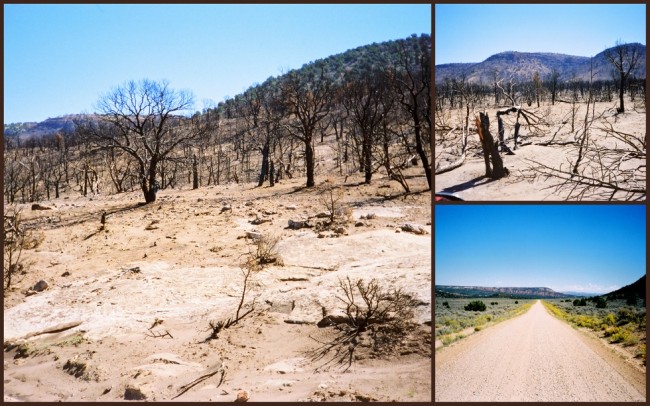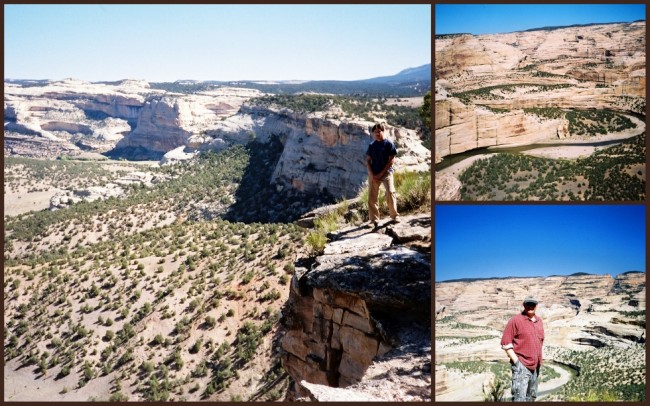 After leaving the park we found ourselves cruising out in the middle of nowhere, and came across one of those "hole in the wall" kinds of places that served cold Coor's beer and delicious food at a bargain-basement price.  It doesn't get any better than that, cold Coor's, amazingly good food and all that where it should be, Colorado.
Last modified on
: March 23rd 2014.