Cathedral Hills Trail System – Grants Pass, Oregon
"Rainy Days and Mondays" has always been one of my favorite Carpenters songs. Truthfully I'm not sure why this came to mind on writing this article, maybe it had something to do with the fact that this particular hike took place on a rainy Monday morning in the Pacific Northwest, go figure.
As is usually the case, I usually fly in on Friday evening when I go visit my friends the Campbell's. That gives us a couple of days to "hang out" and get caught up on what's been happening since my list visit.  So it was on this mid-November visit.
Monday rolls around and my buddy Jeff had to go work, but his wife Rachelle and their daughter Aleutia had the day off. Rain or no rain, we were going to get a hike in that day.  The trail of choice was part of the Cathedral Trails system, a 10-mile series of loops on the fringes of Grants Pass.

We headed out after breakfast (and more importantly coffee), grabbed their dog Murphy and one of Aleutia's friends, Evyn. It was a cool and dreary morning, but even so we were all excited to get out of the house and get some fresh air, which smelled great by the way.
This trail system is "multi use" which means you can hike, mountain bike or ride your horse on it. On the day we hiked, we were the only ones out braving the light rain, which worked out perfectly.  The trail itself is easy to moderate at only 1,200 to 1,600 elevation, a far cry from the brutal trails I'd done in Utah over the years.  As I'm a lot older now, no complaints.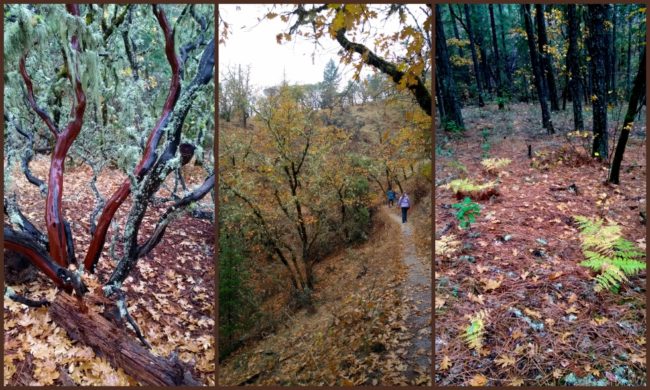 We strolled along through the drizzle and were surrounded by beautiful late Fall colors and trees that were as foreign to a Kentuckian as though they were from another planet. My favorite has to be the Madrone, a crazy-looking thing with smooth, red bark and twists and turns that would challenge the best oak anywhere for it's bizarre shape.  This trail system is also home to 400 acres of Douglas fir and Ponderosa pines.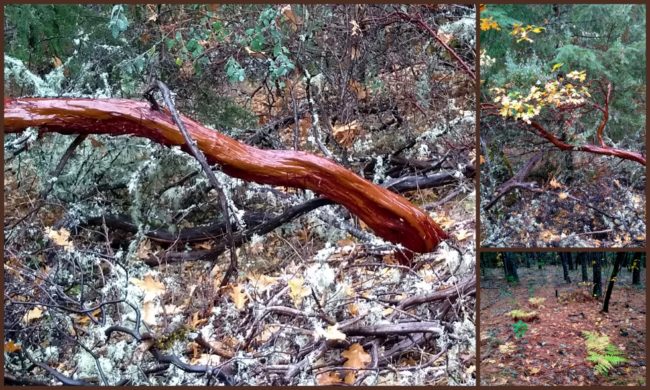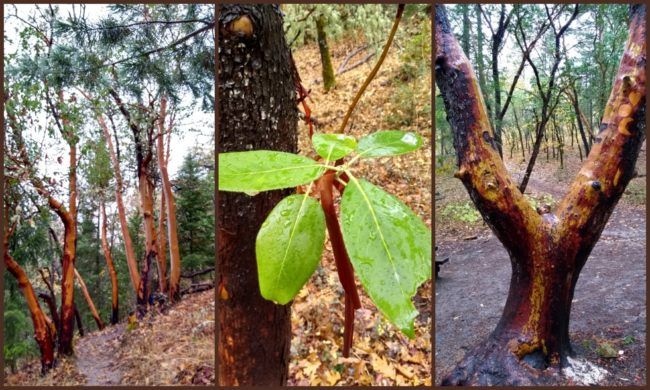 There are several trailheads, some with adequate room for horse trailers, but the one we used was for cars only. This trail system is under the Medford District Bureau of Land Management and you can get information online or by calling them at (541) 6500.  FYI, there are restrooms available at the Espry Trailhead.  Also, all motorized vehicles are prohibited.
This was a super easy hike and was perfect for all of us. Trail conditions were a bit slippery here and there, but overall it was excellent.  If I lived in Grants Pass, I'd be on this one a lot.
Last modified on
: June 11th 2019.