Calf Canyon, Utah
I am a fan of Utah, period.  My travels began there back in the mid-1990's and have continued well into the 21st century.  It would be very hard, if not impossible to say where my absolute favorite place is.  However, when it comes to campsites, I have one that jumps to the front of the list fairly quickly, Calf Canyon in the southeast portion of the state in Emery County.
One of the things that my friend Jeff and I try to do is to camp in as many places as we can, not repeating campgrounds very often.  The number of times we've re-visited a camping area can be counted on one hand.  Calf Canyon is the exception to this rule, just too nice to pass by if we're in the area.
Jeff & his family were relocating to Oregon upon the completion of my 2012 visit for a number of reasons.  Jeff and I had planned a big-time road trip to wrap up our Utah explorations in a big way.  It was mutually decided that we'd camp one more time "for old times sake" at one of our favorites sites.
Upon arrival late in the afternoon we were greeted by a situation which was a first for us.  Since our last visit to Calf Canyon a few years earlier, it was apparent that there had been a massive flash flood in the canyon which had essentially destroyed the roadway.  Where there had been a very usable dirt road, now there was a deep gully to be dealt with.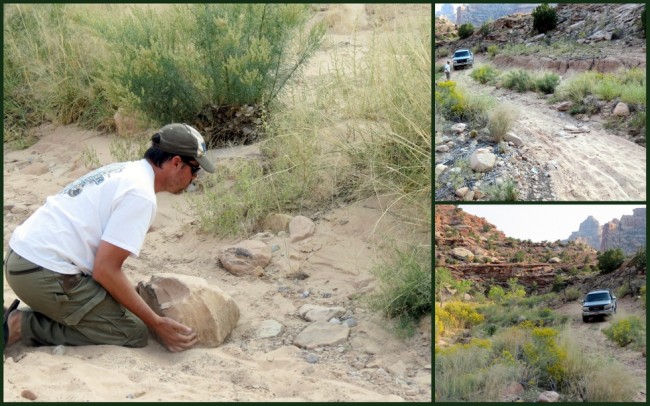 Initially we thought we'd have to go elsewhere to set camp, but after looking it over, and deciding that a few well-placed, large rocks would allow us entry, Jeff spent the next half hour building a road of sorts for us to get in with.  What made this traverse especially dangerous was the fact that the roadway itself was comprised of very loose and deep sand, angling directly into the gulch.  I stood on the opposite bank when Jeff made his approach (in 4-wheel drive no less) and "gunned" it across the temporary bridge he'd made.  With much scraping against the rabbit brush which had grown over the old road, we were at camp, at the famous rock which marked the spot.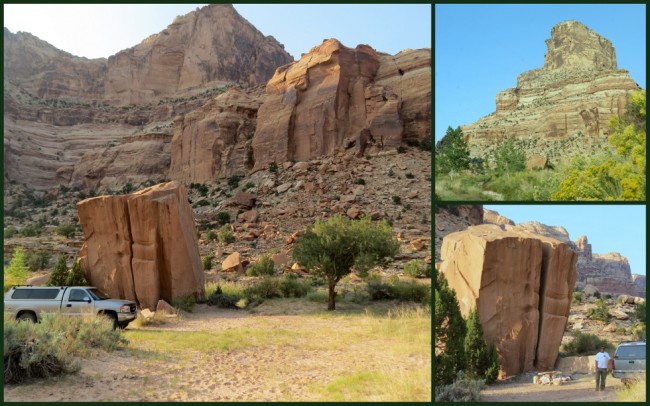 We relaxed, got our collective breath back and got ready for a fine camping experience in an incredible beautiful canyon setting.  We explored for a bit before sunset, then afterwards settled in for a meal, premium cigars and some high-end brews.  It was the perfect setting for what was our Final Hurray to Utah, for both of us.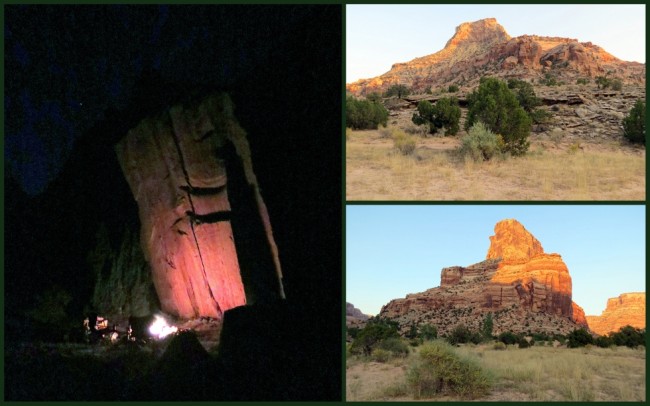 The next morning arrived with cool temperatures and intense sunlight.  We had breakfast with coffee and broke camp. Before heading out we took what could very possibly be our final hike in Calf Canyon.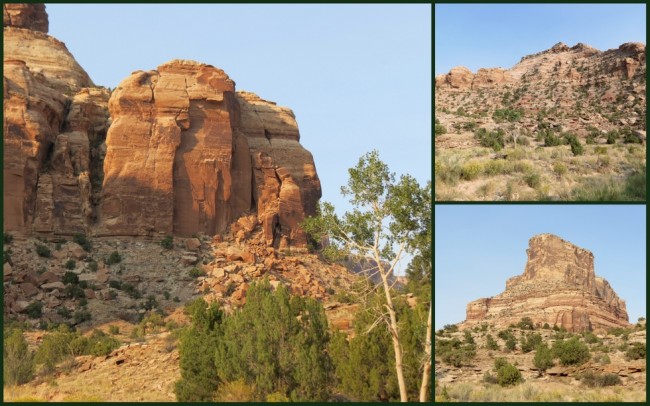 We basked in the beauty of this remote wilderness, savored all of the beautiful geology, wondered at the generous amounts of flora, and were even treated to above-normal wildlife.  It was as though the canyon was giving us a farewell gift to be treasured forever.  As much as I would like to, I cannot adequately describe the scene; the hum of the insects, the whisper of the wind through the trees and the sounds of unseen creatures moving to and fro in the undergrowth.  We both marveled at the changes that the flood had brought, topographical alterations, huge trees downed, new stream paths and an apparent increase in the plant life of this desert oasis.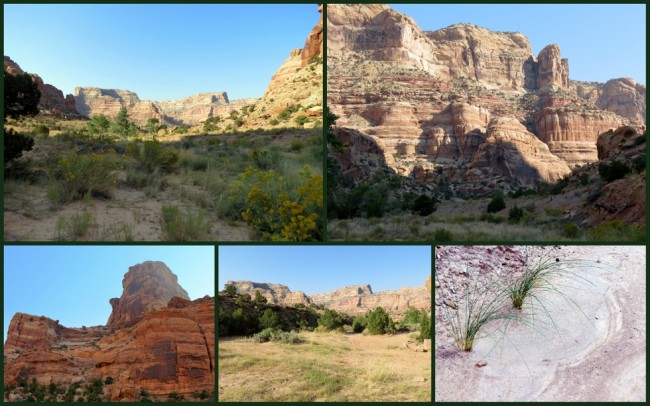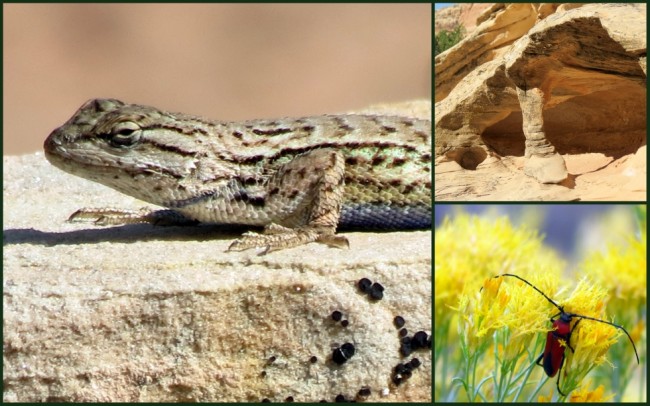 It was with heavy hearts that we left Calf Canyon.  Though nothing is certain, it's very possible that neither one of us will ever be back.  I'm equally sure that our special campsite won't be occupied again via vehicle unless the original road is rebuilt.  Based on general location, remoteness and how far this place is from regular tourist destinations, I think that unlikely, which may not be a bad thing.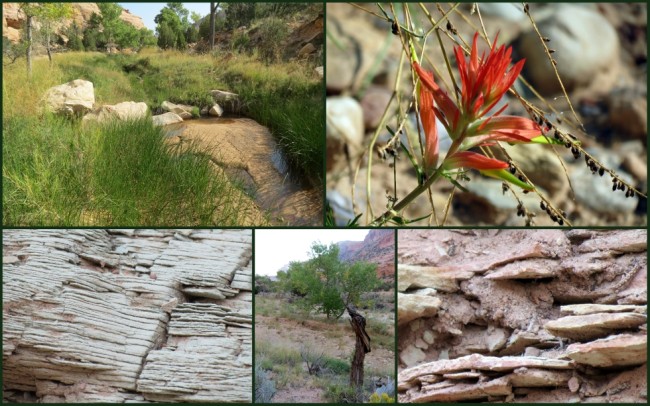 We talked about how this place came to be named, rumored to be an area that free range cattle would spend their summers before the winter cattle drives began.  You can still see what is left of fence posts and wire at the entrance to the canyon, ghosts of a time long gone.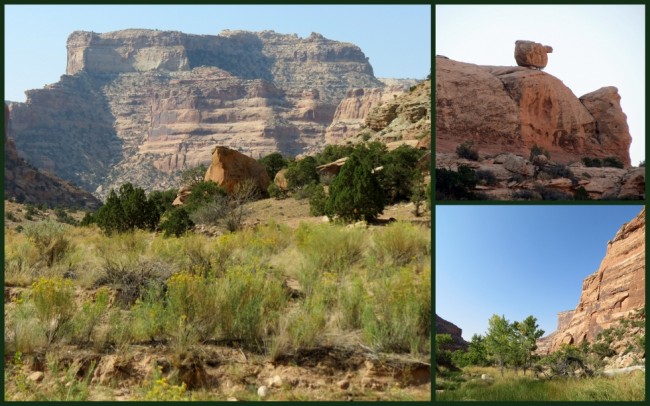 I try to imagine what it would have been like back in the days of real cowboys, riding in looking for strays.  As harsh as the surrounding desert is, this place would have been a regular paradise to visit.  I can almost hear the sounds of the cattle, the crackling of a campfire and the voices of men long deceased echoing off the canyon walls.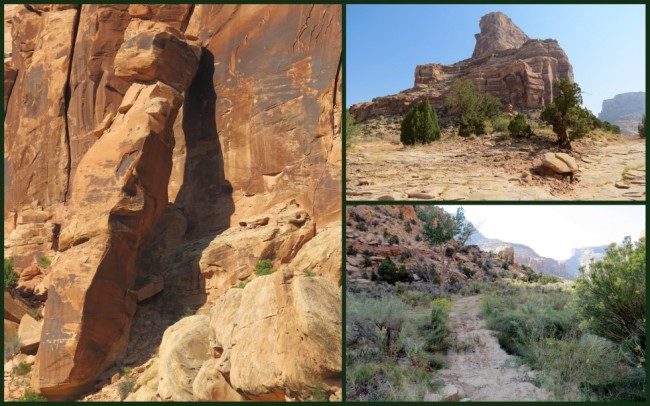 Last modified on
: June 13th 2013.