Breaks Interstate Park, Kentucky-Virginia
It's a fact, sometimes hikers get into the mindset that only certain places and conditions can offer a challenge, and as such a rewarding experience. I must admit that I'm one of those who have fallen into this trap. Until about a year ago I only considered hikes above 7,000 feet and west of the Mississippi River as being "major". I often joked about the "nice little hikes" in my part of the country. It turns out that the joke was on me.
While taking a springtime hike in an area called the Breaks Interstate Park which straddles the Kentucky-Virginia borders, I got the chance to eat a large serving of Humble Pie.
My wife and I decided to take a week to check out the eastern part of Kentucky, an area which neither one of us had visited to any degree. We grabbed our AAA books, literature provided by the Department of Tourism, and of course my favorite reference book, the HIKING KENTUCKY (A Falcon Guide).
We did the "tourist" thing and visited the town of Van Lear (home place of country legend, Loretta Lynn), visited Kentucky's Natural Bridge State Park, and decided to hike at the Breaks Interstate Park. According to my Falcon Guide, we could combine a number of trails and make an all-day hike from several smaller hikes.
The day began with a chilly but sunny morning. We started out by strolling along the Towers Tunnel Trail. We took a few moments to check out the Overlook and then headed right into the Prospectors Trail. This led us directly into the River Trail which took us down a steep, rocky and narrow trail to the Russell Fork River.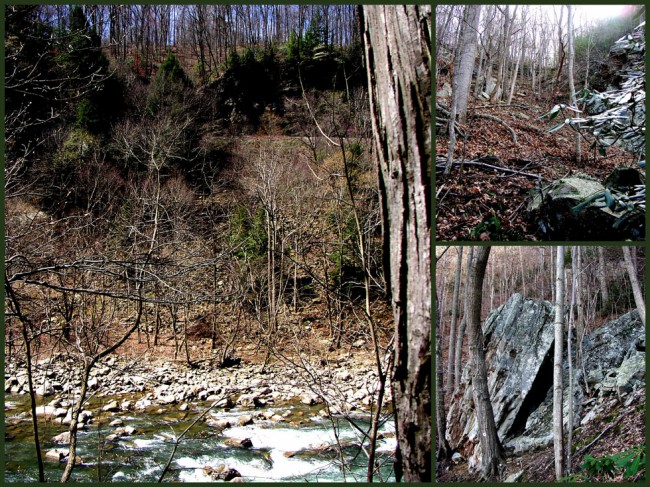 We finally made it to the bottom of the 1,000 foot gorge and were rewarded with a roaring mountain stream, complete with deafening whitewater and spray. Here we took a much-needed break for lunch (Capri Sun® fruit drinks, cheese & crackers and GORP for desert).
After refueling, we entered into the Grassy Creek Trail where we spent the next two hours boulder-hopping along the riverbank. Keep in mind that at this elevation most boulders were covered in moss, making for a slippery and very-exciting journey.
Along the route we noticed a railroad track on the opposite side of the river. We kept hearing train whistles and decided to wait for the train to take a photo or two. Even though the sound seemed to be getting louder, the train never appeared. It was "the train that never was". Even so, it gave us a nice half-hour break.
From here we entered into the Laurel Branch. This is where I found out how hard Kentucky-Virginia hiking can be. Though I've climbed some pretty high peaks in the Wasatch & Uinta Mountains of Utah, this uphill scramble was rough. Even without serious altitude, the sheer vertical grade of this last two miles was impressive.
We finally made it to the top (after taking repeated "breathers"), sat on the tailgate of my truck for quite a while, had a snack and decided that we had hiked enough for a day. We treated ourselves to Black & Blue Salads at the Natural Bridge State Park.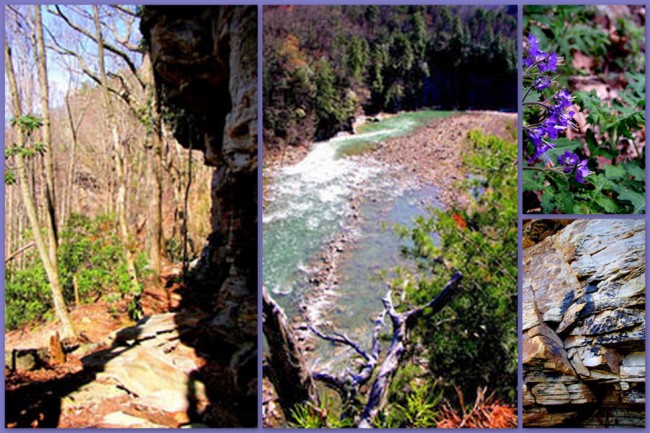 Last modified on
: June 15th 2013.