Allegneny Highlands Trail, Frostburg, Maryland
While taking some time out to stay a few days with my friend Dr. Steven Grimes (visiting professor at Frostburg State University), I had the opportunity to take a hike through part of the Frostburg Connection on the Allegheny Highlands Trail. Thanks to Steve's curious nature, he had already learned of the trail before my arrival. If anyone can research an area, and its recreational potential, it's Steve.
The trail is part of a nationwide effort called "rails to trails" where railroad companies remove the rails and crossties and leave the graded surface for hikers and other outdoor enthusiasts to enjoy. If you ever get the opportunity to serve on a committee that is trying to do this, get involved. This is one of the best programs going!
The day began with brilliant, blue skies, temperatures in the lower teens with a projected high in the upper 20's. What better day for a winter hike in the mountains of Maryland?
I started out by visiting a local café called Kramer's Deli on Main Street. There while sitting by the fireplace I enjoyed a delicious Southwest breakfast wrap. To make it a perfect experience, I had a cup of fresh-ground hazelnut coffee to get me ready for the hike.
After "stoking the furnace", I headed down a steep road toward the old railroad station where the trail began. Not having a map with me I basically looked up and down the trail and decided that turning left was the way to go.
I spent the next four hours strolling through a fairly level wonderland of ice and snow, accentuated by the rock formations along the old rail route. Here and there I could see through the trees at the valley below, a beautiful, sparkling site indeed.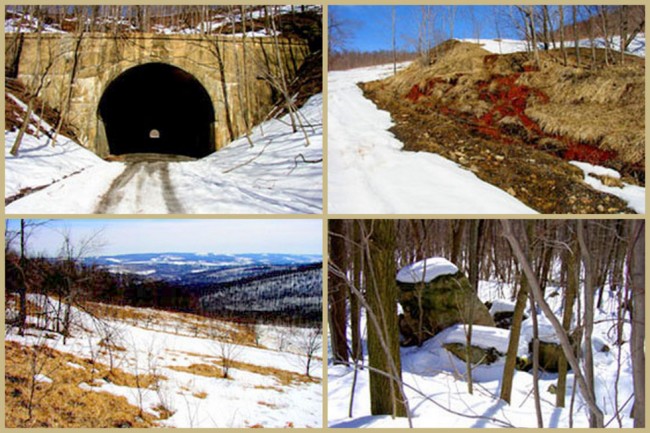 After a while I came across an old tunnel, lined with 2-inch thick ice on the interior. Walking through it was like walking on an ice rink. Slippery or not, it was fun beyond description.
As midday approached, I decided to hike straight up hill from the tunnel (to the left of course) and find a high spot for lunch. On this trip, I had brought a hiker's standard to eat, an MRE. For those who aren't familiar with MRE's, they are military Meals Ready to Eat. They come in a waterproof pouch and contain: an entrée, crackers with cheese or peanut butter, a dessert of some kind and yes, the ever-popular toilet paper (not for consumption). These meals come in a wide variety of flavors. You can get such things as: Beef Stew, Chicken & Rice, Ham with Potatoes, Chili, Beans & Franks "not for in flight use", and almost anything else you can imagine. Though many folks (usually ex-military) don't find them too exciting, I personally like them and find them perfect for day hikes.
I finally found the perfect lunch spot, high on a mountainside. I pulled a trash bag out of my day pack (to be used for a moisture barrier while sitting on the snow), tore open my MRE and "pigged out" to my heart's content. The view was phenomenal, mountain peaks all around highlighted by dormant trees, a few evergreens and open grass here and there where the sun had melted the snow off the ground.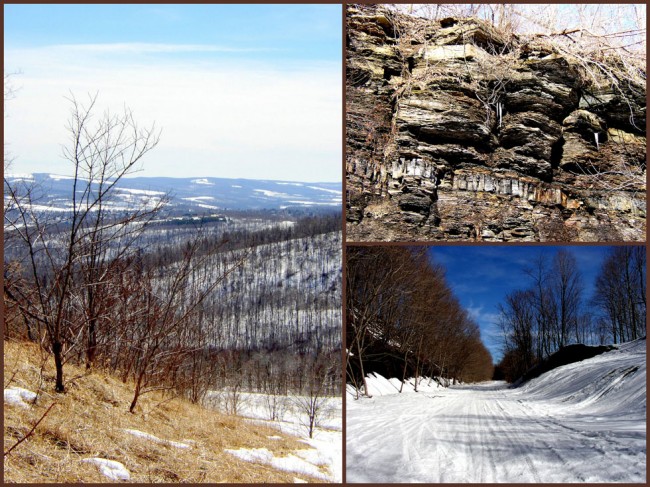 As always I took time to shoot several photos and made sure to give myself plenty of time for the walk back. I strolled back at a leisurely pace, hooked up with Steve at the designated time and place, wrapping up the day at an excellent German restaurant.
The most important lesson I learned on this hike was the importance of having the right foot gear. I was wearing ultra-light hiking boots made of nylon and suede leather, which unfortunately were not waterproof. Though the forecast high was only expected to be around 28 degrees, the intense sun started the melting process by early afternoon. My feet got completely soaked, but no harm done. I did have the foresight to wear liner socks that wick moisture away from the feet. I have heard of hikers who carry bread sacks in their packs for such an event, food for thought.
The alternative is to spend some serious bucks on boots that are Gore-Tex® lined. You can easily justify this expense if you plan to hike in snow, or areas which are prone to surprise rainfall.  I was reminded again on an autumm hike in Utah when my feet once again got soaked with boots that just didn't "cut it".  I've now modified what I need to get to real snow boots, forget the regular hiking boots.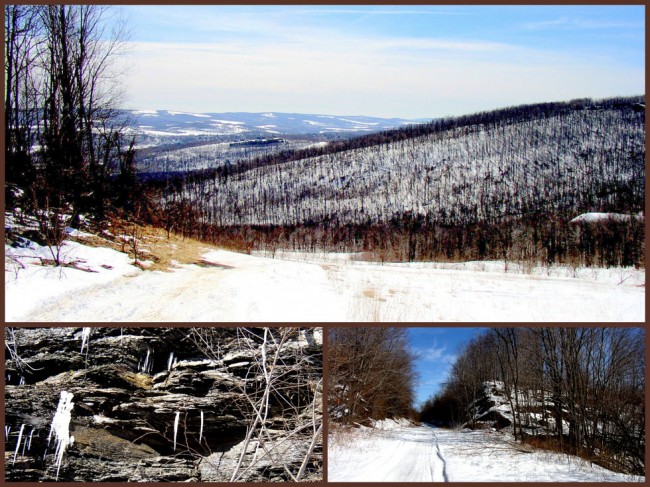 Last modified on
: June 15th 2013.