Smith & Morehouse, Utah
Almost all of my vacations to Utah have been in the summer and fall, thus I hadn't had a chance to play in the legendary snow playgrounds of the state. Circumstances finally worked out so I could travel there in the early spring.
My first real hike of this particular visit was up in the Uinta Mountains of northern Utah. This wasn't the first time I'd been to this area; as a matter of fact my first trip West was in this vicinity, to a place called Erickson's Basin. Sorry, no travel log on this one as I have no acceptable-quality photos available.
Moving on, we (Jeff & Rachelle Campbell and their black labs, Jackson & Jesse) and myself hopped in his truck on a Sunday morning and headed north. After a fantastic breakfast at Ruth's Diner in Emigration Canyon near Salt Lake City (complete with awesome food, live music and the perfect mountain morning setting), we continued on.
The final leg of our journey had us driving down a road which was surrounded on both sides by snow banks that were taller than Jeff's truck, a humbling experience to say the least.
Once we arrived, it was time for some serious snow hiking. Jeff had repeatedly asked me if my boots were water-proof, now I know why. We tramped up the trail for about an hour through snow that was consistently taller than I am (6' 1"). Many times my feet would shoot down through the snow at least to knee height. Snowshoes would have been very handy here.
We finally arrived at the Smith and Morehouse Reservoir 7,960 feet above sea level), only to find it completely frozen over. Normally, this 44-acre mountain lake is home to fishermen and hikers. Today, we were the only people there on foot, though we did share the site with a couple on ATV's.
This area has excellent facilities for the outdoor-oriented family. Two campgrounds (tent, RV and group) just 22 miles or so from Kamas, picnic tables, a boat ramp) for wakeless craft only), and of course beautiful hiking trails. This place would be a fantastic get-away, no matter the season.
The USGS maps for Smith-Morehouse are the Erickson Basin and Slader Basin. It's located in Summit County, Utah.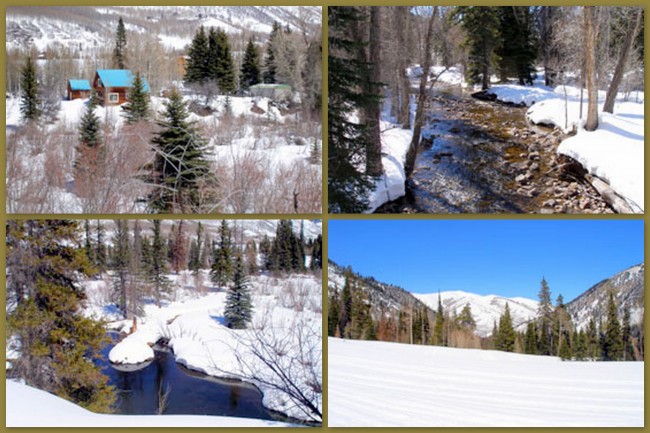 Last modified on
: June 15th 2013.