Lambert's Cafe – Missouri & Alabama
As anyone who knows me knows, I enjoy a good meal out and am a big fan of anywhere that can fill me up.  I've been lucky over the year to find some of the best local eateries throughout the US.
A few years ago I got wind of a somewhat strange, but wonderful set of restaurants called Lambert's Cafe.  Don't let the name cafe fool you, not a small, intimate place at all, but a warehouse-sized eating destination like no other.  With all the amazing food offerings, and there are plenty (more about that later), Lambert's is most famous as the home of "throwed rolls".  It's exactly like it sounds, nice folks in red bow ties literally pitching huge, and delicious hot rolls across the room to be caught by the customers.  The first location opened in 1942, but roll throwing didn't start until 1976..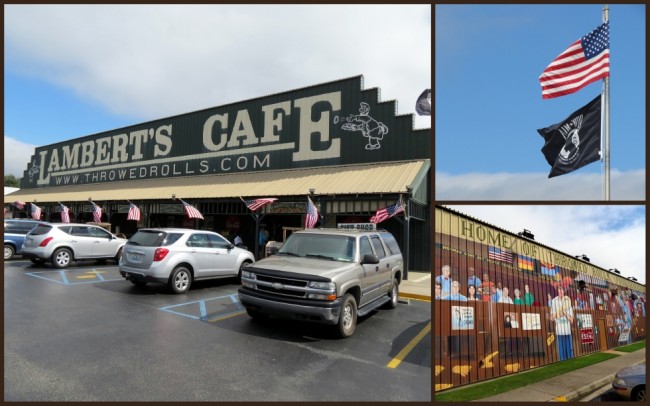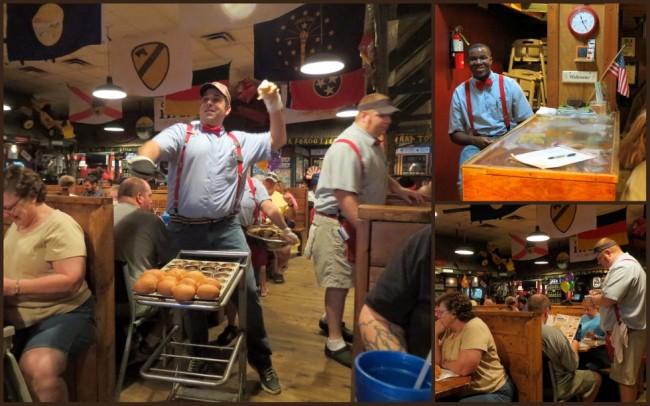 I've been lucky enough to eat at two of the three locations; the one in Sikeston, Missouri and the other in Foley, Alabama.  The third is in Ozark, Missouri.  A couple of logistic notes; they do not take reservations or credit cards, but checks are welcome.  Both times I've visited Lambert's they've been wall to wall with happy visitors.
Now, on to menu items.  They do have a daily special, which I can assure you is indeed special.  On our last visit (in Alabama) the featured entree was Smoked Chicken, which was absolutely wonderful.  In addition to the specials, their regular menu items include such favorites as; Catfish, Fried Chicken, Meatloaf, Roast Beef, Round Steak, etc.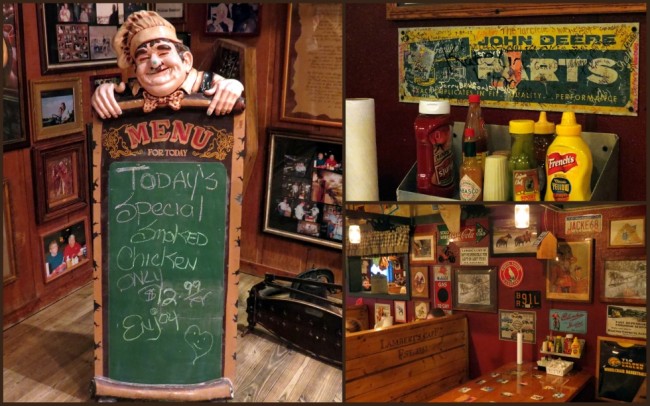 Add to that a wide variety of sides such as: Baked Sweet Potato, Cold Chunky Applesauce, Homemade Mashed Potatoes, Green Beans, Cucumbers and Onions and so much more.  If that isn't enough, they also have what are called "pass arounds".  In a nutshell, this is where servers go table to table offering you such mouth-watering goodies such as; Fried Okra, Fried Potatoes with Onions (my personal favorite), Macaroni and Tomatoes along with other great dishes.
Make no mistake, the portions are huge, which got them a mention on America's Chowdown Countdown.  It is physically impossible to leave hungry, unless you just want to.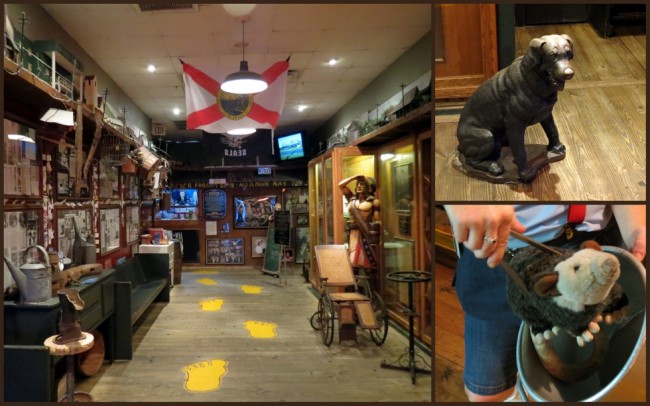 To give you an idea of the scale of their operation; annually Lambert's uses about 23,760 – 44 oz. cans of sorghum molasses, almost 369,000 eggs, 48,409 lbs of Mississippi catfish, 33 tons of French Fries and almost 49,000 lbs of white beans.  Last and certainly not least, they baked up 2,246,400 rolls.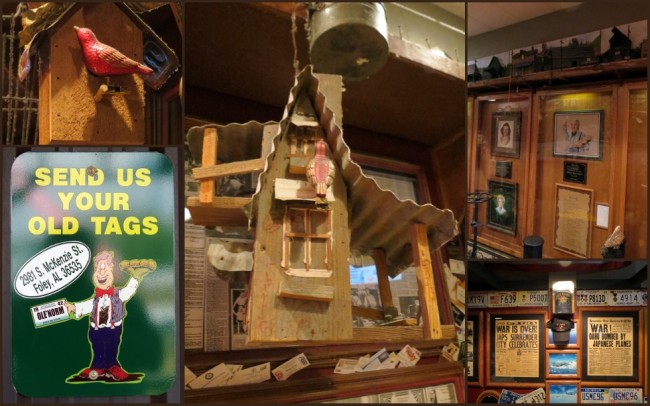 Now that I've hopefully gotten your attention, time to talk about the eating atmosphere.  Nowhere will you find a more diverse decorating scheme than Lambert's. If you can imagine anything old-fashioned, cool and unique then it's there.  Even if you weren't there to eat you could still spend hours just looking over the walls and ceilings, finding amazing things, many of which you won't be able to identify.  Trust me on this one.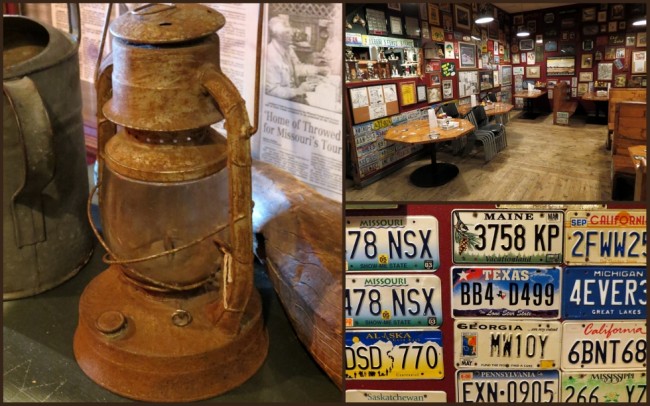 Their staff is top-notch; polite, efficient, friendly and just fun to talk to.  On my last visit I had the pleasure to talk to one of their fine folks, a young man by the name of Vidal, who was as friendly as anyone I've ever met in any restaurant anywhere.  He was, as was everyone there doing their best to make sure we had a great visit.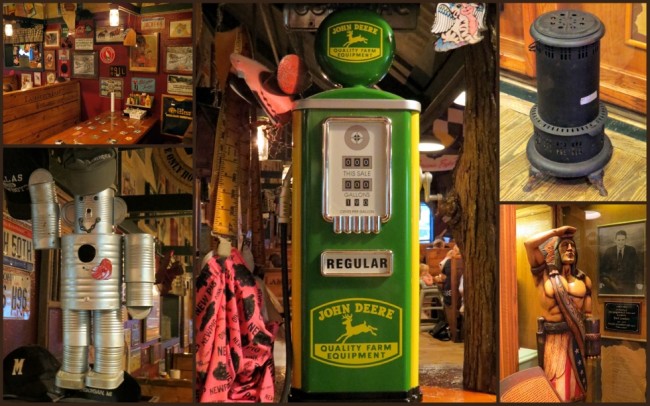 As it turns out, tons of famous people have taken time out of their busy lives to enjoy Lambert's as well.  The likes of: Elvis Presley, Clint Eastwood, Jay Leno, The Presleys (one of my favorites in music), Miranda Lambert (wonder if she's related), The Steve Miller Band, The Turtles, Ed King of Lynyrd Skynyrd and many others have been on the receiving end of "throwed rolls".
If you're going to be close to any of their locations, carve time out of your vacation to add this to your trip, you won't be sorry you did.  For up-to-date information, you can visit their website.  All locations are closed on Thanksgiving, Christmas Eve and Christmas day. Make sure to stop by their gift shop to take home the perfect souvenir.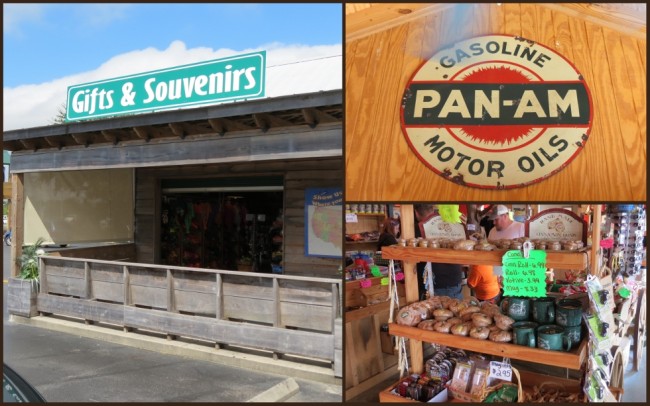 Last modified on
: October 20th 2013.