Dinosaur World, Kentucky
Interstate 65 is without question one of the busiest traffic corridors east of the Mississippi. Motorists frequently complain that the scenery is boring and "there's nothing to look at". Keep that in mind the next time you're cruising southbound near the small town of Cave City, Kentucky (Exit 53). You may think you're seeing things when your eyes tell you that there's a T-Rex standing next to the highway. Relax, there is. Relax again, it's not real, just a life-sized model placed there to get your attention…….worked well didn't it?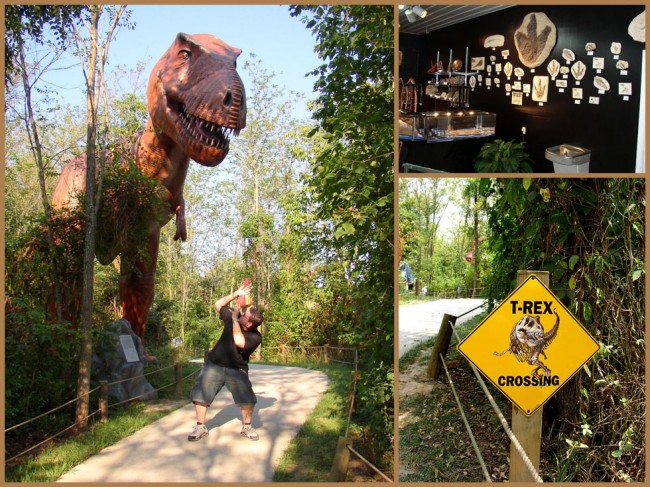 I hate tourist traps with a passion! How many times have you wasted your hard-earned money on a place that wasn't worth the gasoline it took to get in and out of the parking lot? Dinosaur World is not one of those places. Keep my usual disdain in mind when you read on.
Like most people, the Jurassic Park movies sparked my imagination, and brought out the kid in me. That's probably the reason I decided to check out Dinosaur World in the first place. For as long as I can remember, I've been fascinated by these huge and mysterious creatures. My day at Dinosaur World was a self-indulgent treat that I won't soon forget.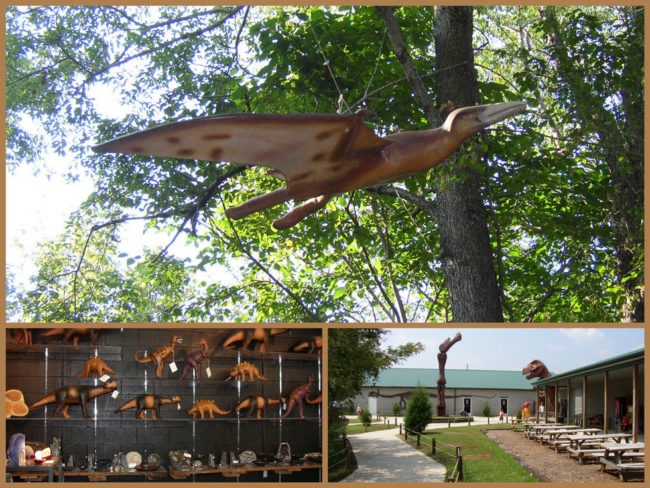 There are actually three Dinosaur World locations, the one in central Kentucky, aanother (the first) in Plant City, Florida and the newest in Glen Rose, Texas.
The moment you step out of your car, you are drawn into a different universe. The Gift Shop is absolutely beautiful and is one of the finest I've ever seen. You can purchase books for all ages, spend hours looking at their fossil and gem displays, take in the dinosaur art, carvings, and so much more.  I spent almost an hour inside the facility before even heading out to see the park.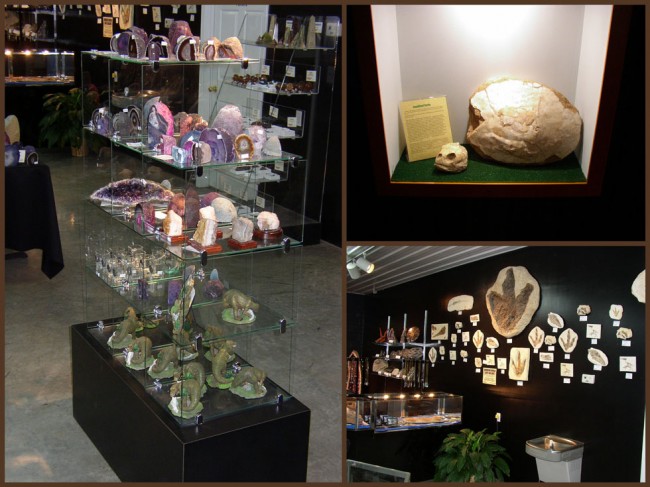 For those who are really into the science of it, there's a very nice indoor museum as well with tons of impressive exhibits to check out.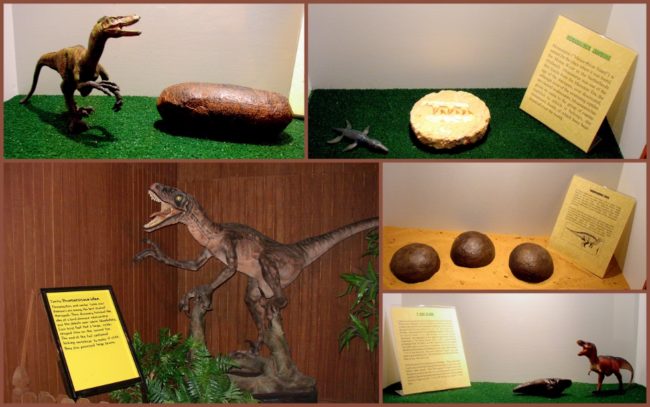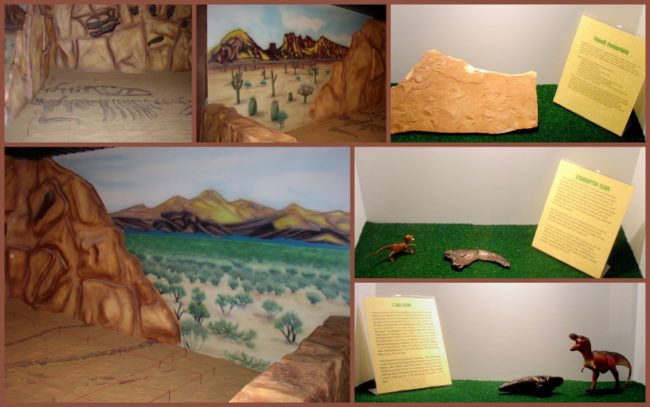 In the spirit of full disclosure I must bring out the fact that I have now joined the Dinosaur World family as an employee.  As much fun as it was as a visitor, it was even more fun as a staff member.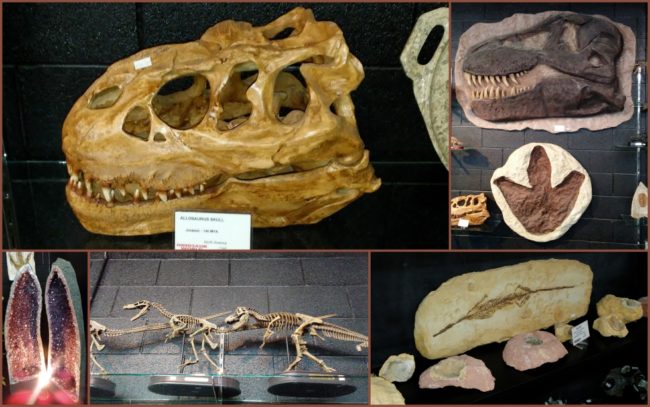 I've spent countless hours watching young and old alike gasp in awe when they see all the offerings Dinosaur World has.  The gift shop is so nice that many families end up spending an extended time there, even before heading out into the main park, a great tribute to the quality and variety of products being offered.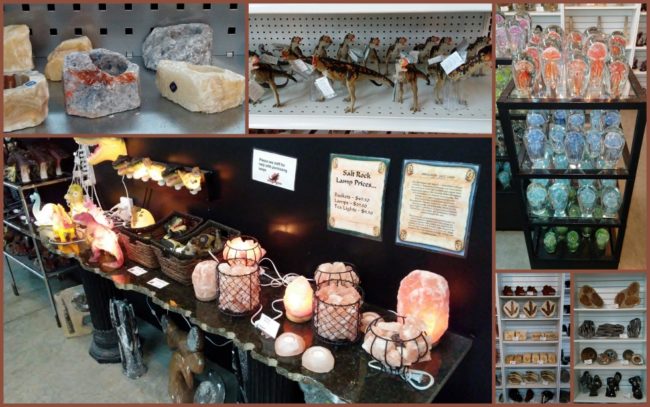 As with any great attraction things are added to make future visits more enjoyable, and so is the case here.  One new attraction is an area called "The Boneyard" where kids (and adults) can help excavate a Stegosaurus skeleton from a massive sand pit.  For anyone who enjoys digging in the sand, this is ultimate fun.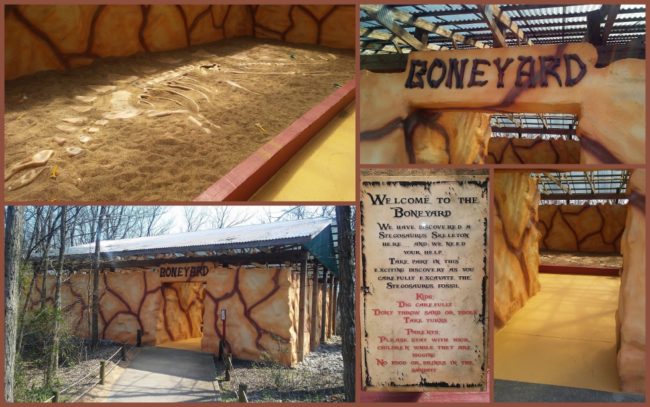 Another addition to Dinosaur World is their "Mammoth Garden".  Located out on the singular mulch trail you'll find it on the way to their Photosaurus, which is a fictitious animal out near I-65, which is heavily photographed because you can stand right next to, or even underneath it.  Not only does the Mammoth Garden offer a great view of their herd of animals, it has one smaller one inside the rope barriers that's been reinforced so kids can sit on top and have their picture made.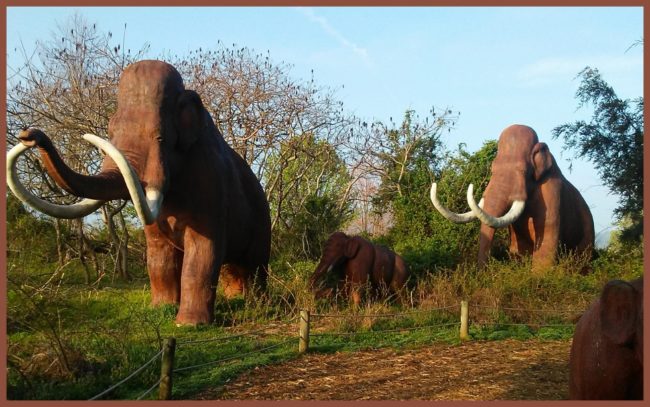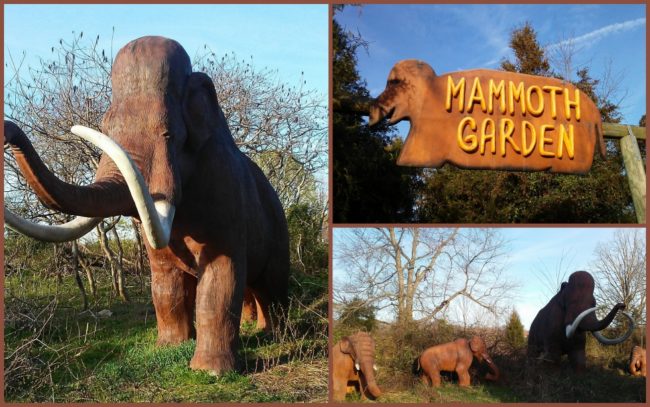 Another addition to the park is their Skeleton Garden, right outside the gift shop.  Check this out: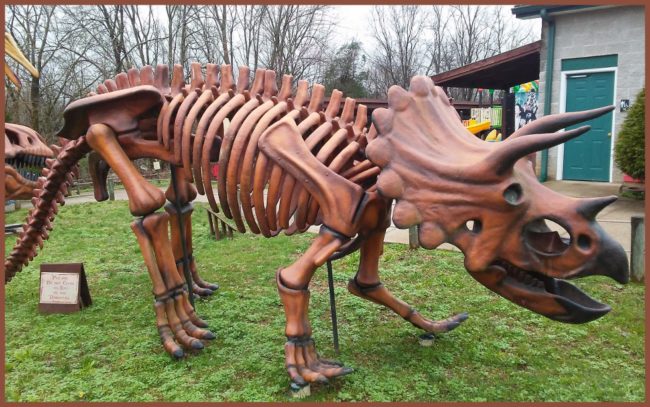 Once you finally tear yourself away from the gift shop and head outside, you'll be greeted with an incredibly clean, well-designed and well-maintained setting. The park has a theme-oriented playground for the kids, a very nice picnic area for the older folks to sit and grab a drink, an auditorium featuring a well-produced program on the life of a dinosaur named "Al" and a "fossil dig" area where kids from 3 to 12 can dig for real fossils at prescribed times throughout the day. As an added bonus, there's a display so the children can identify their treasures. The "icing on the cake" is that the lucky kids get to keep their three favorite fossils as souvenirs. All this is included in their admission price.  Sometimes adults feel slighted because they don't get the Fossil Dig with their admission, but for a small fee they too can get a Fossil Dig ticket and join in the fun.  And "yes" the grown-ups get to keep their fossils as well.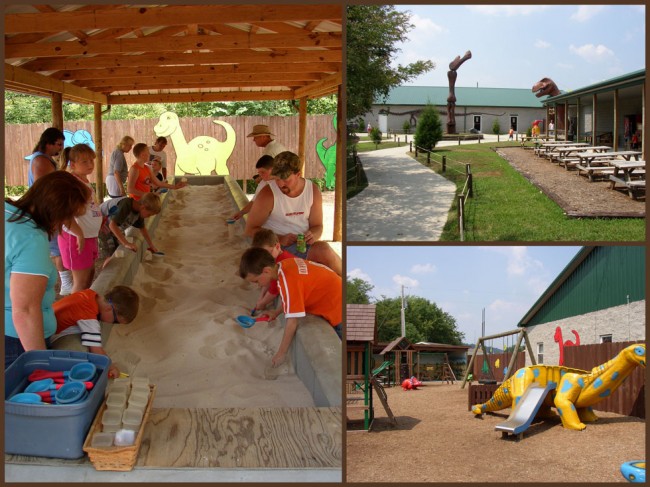 As you tour the park you'll find dozens of lifelike (we assume) models of the more-famous dinosaurs. They've been placed in very believable settings for realism. Whoever designed the layout of this site put considerable thought into the design. If you didn't know you were in a park, surrounded by fiberglass, steel and concrete facsimiles, you could easily believe that you were in the wild among the real thing. Some of these models are so realistic that they look like they move, in and among the shadows cast by the vegetation, pretty creepy (and fun).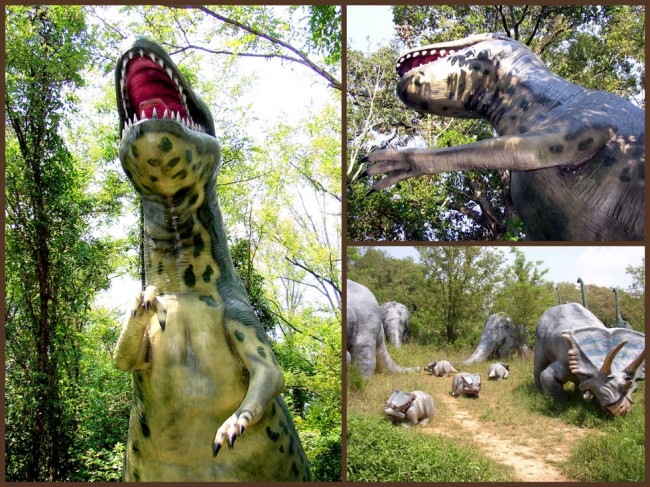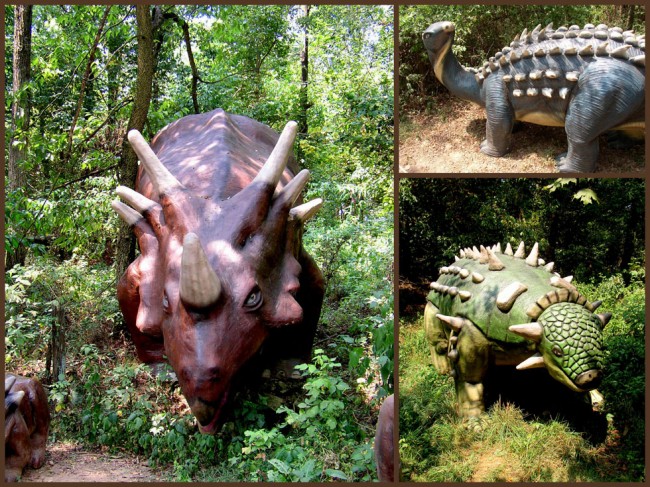 Along the way you'll find several plaques which tell the story of each dinosaur on display. Each plaque gives a pronunciation, basic facts about the specimen and a brief geographic reference.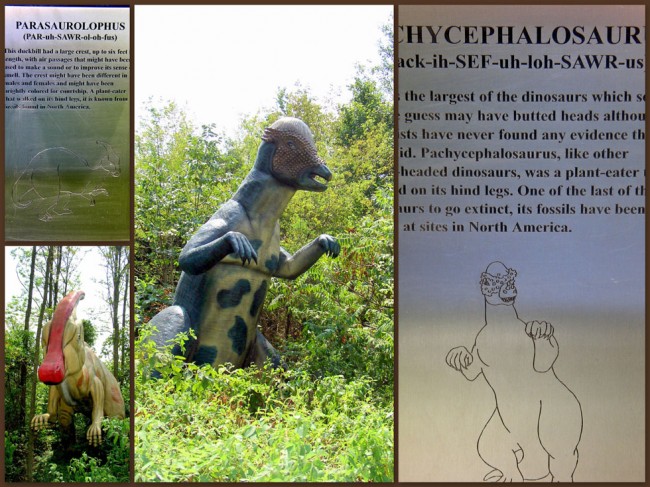 By now you're thinking that there can't be more fun to be had, but you're wrong.  They've also added a couple of "hands on" activities to make your visit even more memorable.  The first is the Dino Gem Mine where you can purchase (at an additional cost) bags and/or buckets of sand loaded up with gemstones and/or petrified dinosaur scat, seriously.  Once you've purchased your bag or bucket you get to wash out the treasures in a huge water slough.  Every bag and bucket is loaded up too, so you certainly get you money's worth.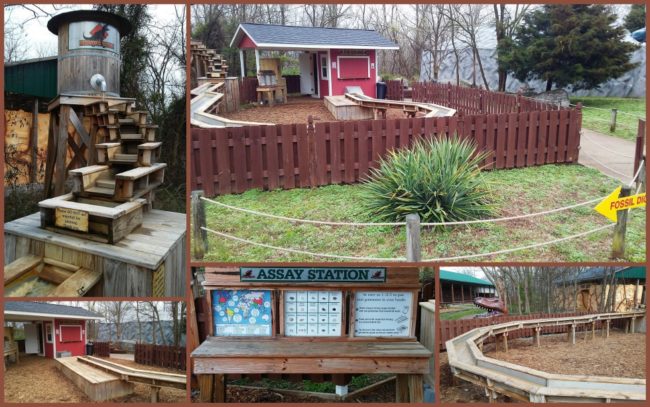 Once you've completed your water fun you can head over to their geode splitter and grab one more very cool item for your souvenir bag.  You can choose from three sizes of geodes and place them in a  hydraulic press that allows you to split it right in half, very cool!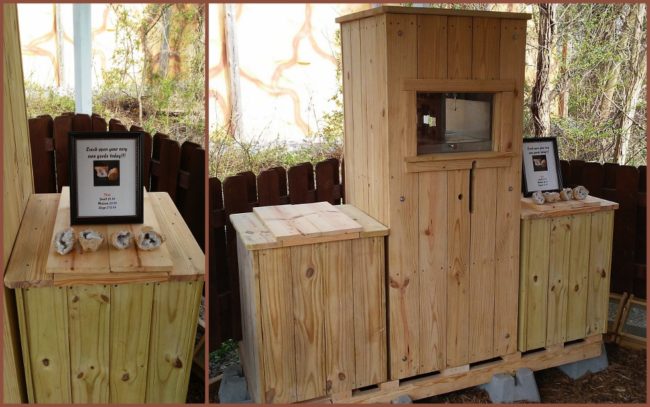 If you've gotten the impression that I like Dinosaur World, good!! This was one of the most enjoyable non-wilderness places I've ever been. If you're ever in central Kentucky, halfway between Louisville and Nashville, schedule half a day and give yourself a treat.
Before closing out this Travel Log I feel compelled to pass on a few items that the public needs to know about, for the sake of the park.  First and foremost, while visiting PLEASE stay on the designated trails which are obvious.  DO NOT get off the trails and sit on or lean against the dinosaurs for photos.  Even though they're huge and look super tough, they're not.  Keep in mind that they are more less shells over the top of minimal skeletons and can be broken very easily.  Even the largest ones are delicate, please treat them accordingly.
For more information on Dinosaur World, you can visit their website at https://dinosaurworld.com/kentucky/ they offer special pre-visit packets for schools, a Teacher's Guide and special group rates.  You can also book birthday parties there with varying levels of add-ons to make it the perfect experience for any child and/or dinosaur-loving adult.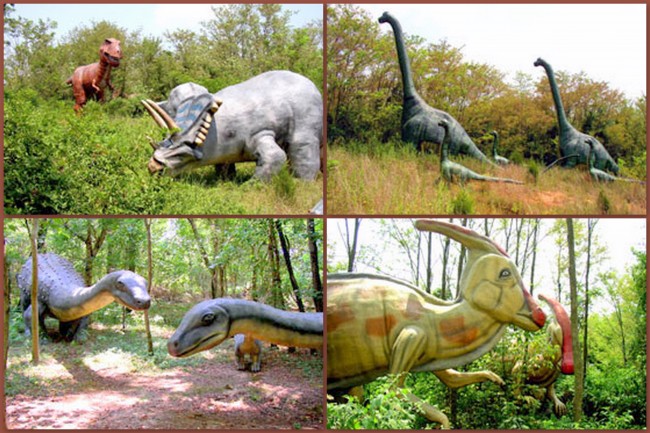 Last modified on
: June 10th 2021.