Smoky Mountains Motorycle Trip, 1977
1977 was a huge year for me in many ways, not the least of which it marked the first year I got to really travel as an adult. Like most kids I traveled with my folks here and there but this was the year before my last semester of college at Western Kentucky University, right before I was to begin my real life away from home.
It was apparent to my parents that I was in fact going to finish college, and receive a degree. I was the first of our family to do so and as such my folks thought it a big deal, big enough that my Dad decided to reward me and buy me my motorcycle of choice as an early graduation gift. We went to our local Kawasaki dealer in Elizabethtown, Kentucky, and after much deliberation I decided that the F-7 Enduro-style was for me. I could have picked out any bike on the floor but the good looks and versatility of the F-7 made it an easy choice.
This 175cc, two-stroke beast turned out to be my favorite bike of all time, including but not limited to the two Honda Goldwings I owned over the years. Because I chose a fairly inexpensive bike my Dad decided that he could afford two and bought one for himself, and this is where our adventure really began. After just a few weeks he asked if I'd like to take a road trip down to the Smokies (Great Smoky Mountain National Park) in Tennessee. I'd been there years before and loved it, so this was a "no brainer" for me.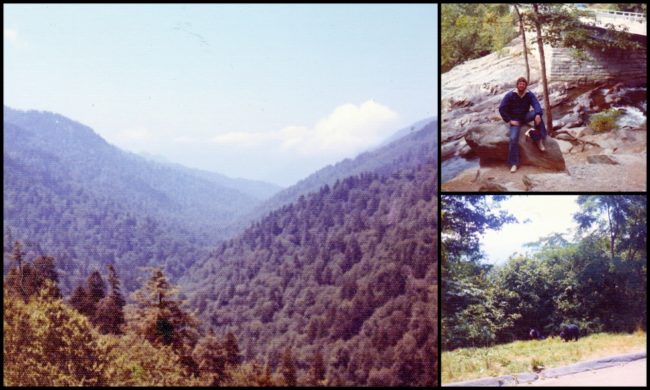 Because these bikes were not set up as touring bikes with the usual saddlebags and travel trunks Dad's first mission was to make some, which of course he did. These boxy, handmade travel containers worked like a charm…………more or less. Empty you never knew they were there, but loaded up with everything we needed for camping it was a whole different story. We'd done several practice runs with them empty, but the very first time we took off fully-loaded we both popped impressive (unintentional) "wheelies" right out of the driveway. I guess we forgot that touring bikes were designed with the weight distribution balance forward to prevent this, but ours were not so engineered.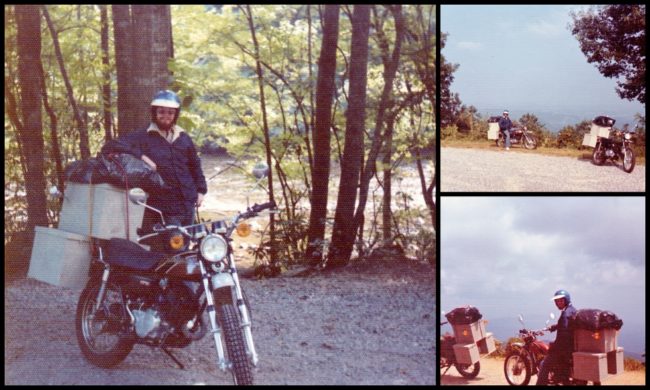 This was something that took a little getting used to, but we did and were on our way. We were blessed with great dry weather for our trip and we drove straight through to the park. Just after entering the park we pull off on a scenic overlook area and Dad stopped right in front of me, too close for me to stop easily. The good news is that I didn't hit him, the bad news was I tipped my bike over right in front of a Park Ranger who gave me this very interesting look. Dad, taking the whole thing in stride told the Ranger, "don't worry about it, he does that all the time". Both the Ranger, and Dad got a nice laugh out of that one. Ironic that just 15 years later I'd be wearing the same Green & Gray uniform and would be a Park Ranger in the NPS myself. Interesting how life works that way sometimes.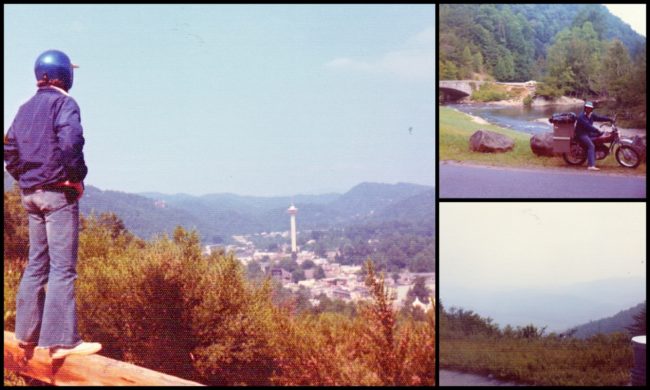 We eventually set up camp with our tiny 2-man pup tent, which we shared. We also had air mattresses for comfort which turned out to be fine for me, but not for Dad as his deflated in the middle of the night. The next morning we got up (him sore, me not sore) and cooked a hot breakfast for our day on the road.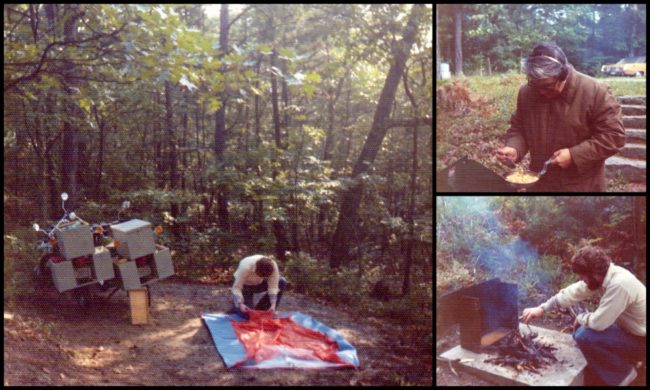 We drove into downtown Gatlinburg and spent the day then started heading homeward. Dad assured me that one night in that tent was all he really wanted. On the way back we detoured to a beautiful place called Norris Dam and also went over to Cumberland Falls State Park.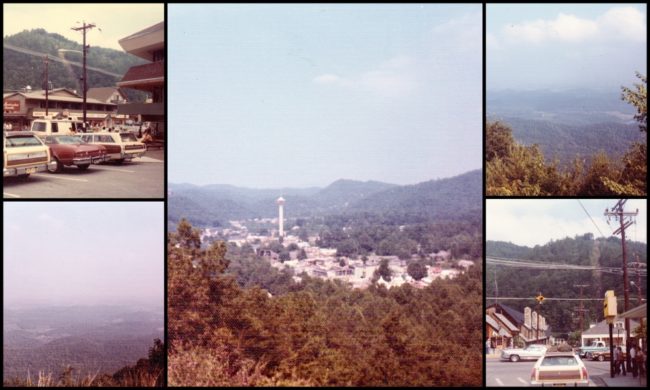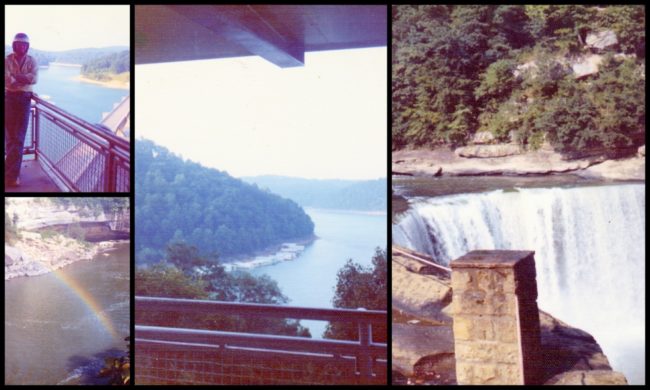 The bikes performed perfectly, even passing up larger, much more expensive touring bikes that had to pull over because of overheating. Dad and I rode together many times over the next few years, but this was our first, and only big trip anywhere together. Even so, I had so much fun on this one that it opened the door to my love of traveling and here I am over 40 years later, still doing it.
Last modified on
: August 14th 2019.