Erickson's Basin, Utah 1994
I'm writing this article in August of 2019 to commemorate the 25th Anniversary of me traveling West thanks to my friends Jeff & Rachelle Campbell. Before you read on, be warned this is going to be a long one.
So, here we go. I first met Jeff & Rachelle in the Visitor Center at Mammoth Cave National Park on a rainy November day when they came in right before we closed.  All the tours were done for the day but we did have a few minutes to chat and immediately became friends for life.  I invited them to come back the next day and catch one of my cave tours, which they did.  While on the tour Jeff and I got talking and I found out that he was learning guitar.  I spouted out something to the effect, "too bad you don't live here so I could give you free lessons".
Funny thing about that, the next time I saw them they'd gotten local jobs and moved into a local campground. Every Wednesday night for almost a year found me at their little camper giving Jeff guitar lessons and eating amazing meals prepared by Chef Rachelle.  Though she does not officially have the title, she most certainly does have the talent, ergo my designation.  After many months they started longing for the "Mountain West" and decided to go back, ending up in Park City, Utah.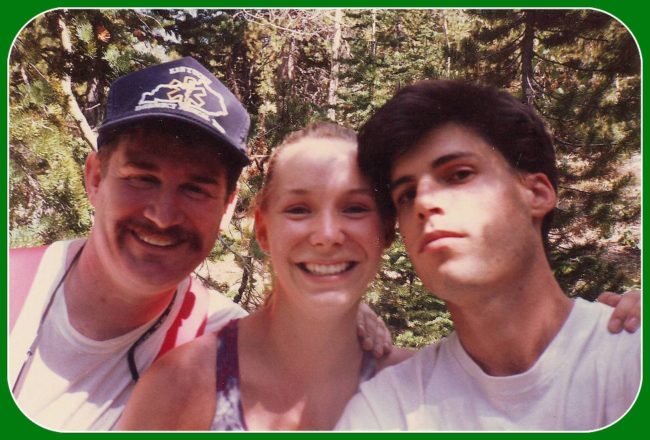 It was in August of 1994 when I stepped off the plane in Salt Lake City to see my first view of the Wasatch Mountains, a place that would become near and dear to my heart.  That night in Park City found us at the Wasatch Brew Pub enjoying beers on a patio watching the sun set in a beautiful mountain setting, my very first and still memorable decades later.  I even remember the beer, a pinkish thing called Raspberry Wheat, which as odd as it looked was no less than fantastic and memorable.  To this day it's the only fruity beer I still like, though I have been known to tip back a Pumpkin Ale in the Fall, the best of those coming from Fallbrook, California.
After much discussion we decided that it'd be fun to head down to Zion National Park to do some camping and hiking which turned out to be easier said than done.  We loaded up Jeff's jacked-up, red, 1991 Ford F-150 and headed out.  We drove for several hours and all of a sudden we realized we had a problem, one of the two fuel pumps on the truck was going out.  This particular truck has two tanks and two pumps, problem was that one was already bad.  We ended up pulling off the highway in a little dusty town called Scipio where we got a room at the Shell Motel.  You read it right, a Shell gas station that had a motel with it, cool.
At this point it all sounds like a total disaster with no redeeming graces, but nothing could be further from the truth. After supper that night we started walking around town and found it to be a lovely little place out in the Utah desert with a stunning backdrop of purple mountains.  We came across a local baseball game going on and watched that as our evening's entertainment.  It was one of the most enjoyable nights I've ever had on vacation.  The ONLY downside to this was that Scipio was in a dry county and for whatever reason, we had no beer at all, a true oddity for us.
After a couple of days and a truck repair that Jeff and I actually did we found ourselves back in Park City with no trip to Zion.  Not to be defeated Jeff thought it'd be fun to roll up to northern Utah and do some hiking in the Uintas, an east to west running mountain range that was rugged to put it nicely.  So, it was back in the now-repaired truck and off we went for about 200 miles to the northeast.  Keep in mind that even though this was a planned backpacking trip I had brought no backpacking gear with me, just truck camping stuff.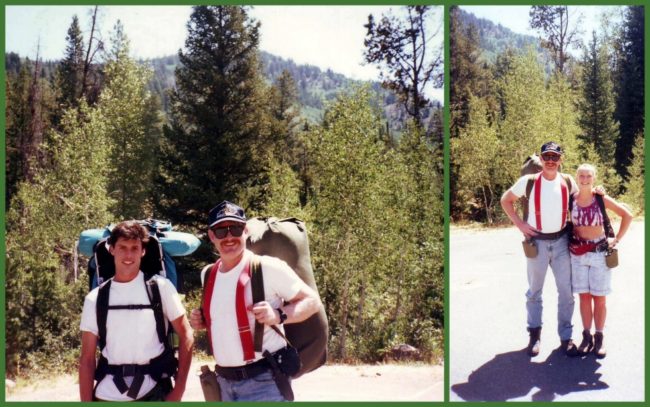 We arrived at the Ledge Fork Trailhead and followed the Smith and Morehouse drainage straight uphill in what was the absolute hardest hiking I'd ever done to date. Keep in mind that I live just a few hundred feet above sea level and this hike started at 7,800 feet, a real shock to my non-altitude-adjusted body.  So here we are, a mile and a half up in the thin air and I throw on the only thing I had with me, a US Army duffle bag, loaded up with about 70 lbs. of gear, soon dubbed "The Cylinder". Inside was our Hillary 8′ x 8′ dome tent along with a variety of non-lightweight camping gear.  For water purification we used iodine tablets which gave it that always-popular garden hose flavor.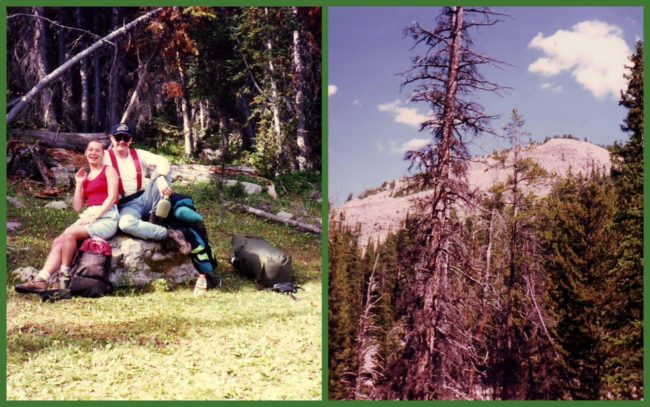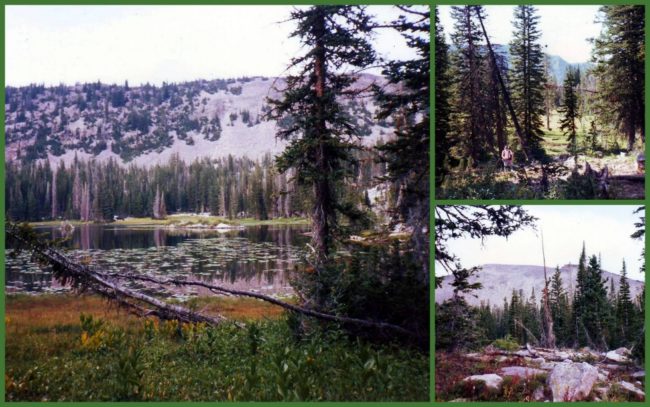 We slogged up the mountain for what seemed endless hours trying to get up to the Erickson Lakes (North and South).  Along the way we had to take countless rest breaks (mostly for me), but were treated to fresh mountain raspberries which helped fuel our climb.  We passed streams and multiple beaver ponds and except for the strain of the hike were treated to a thoroughly enjoyable experience.  We finally arrived at the clearing that was to become our campsite (just downhill from the actual lakes) and set camp.  We broke out our MRE's and dined in a beautiful outdoor setting which could not be beaten for sheer beauty and isolation.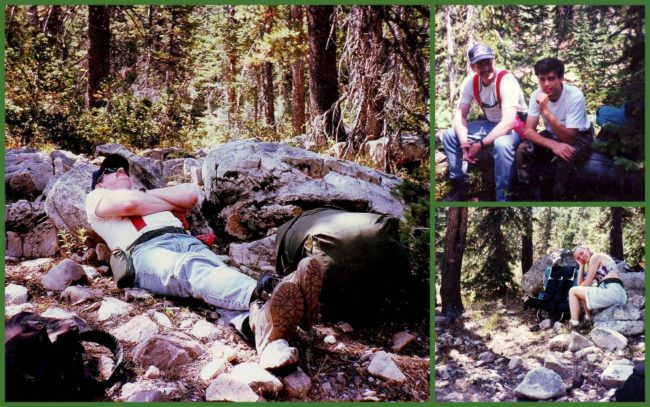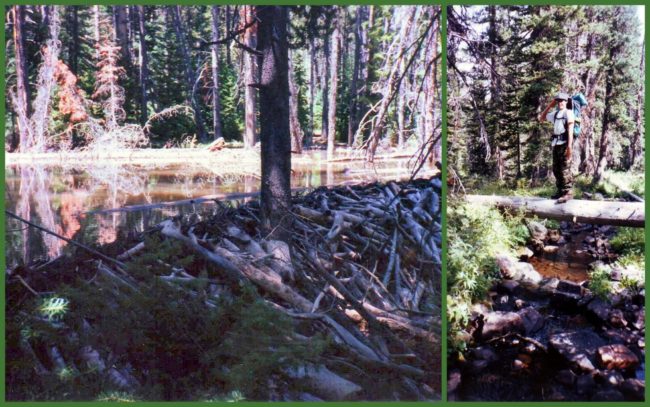 Needless to say, we slept very well. The only thing that broke that sleep was the sound of something very large outside our tent.  Keep in mind that we were in real wilderness where the possibilities were endless.  Was it a bear, a moose, a Sasquatch?  We didn't know, nor did we want to open up the tent door to find out.  It's not like we were packing a large caliber weapon on any kind to protect ourselves.  We went back to sleep and hoped that nothing would kill or eat us.  I know, setting the bar pretty low weren't we?  The next morning when we crawled out of the tent we had to go right over the top of a large pile of feces of some type.  Undoubtedly something had been there.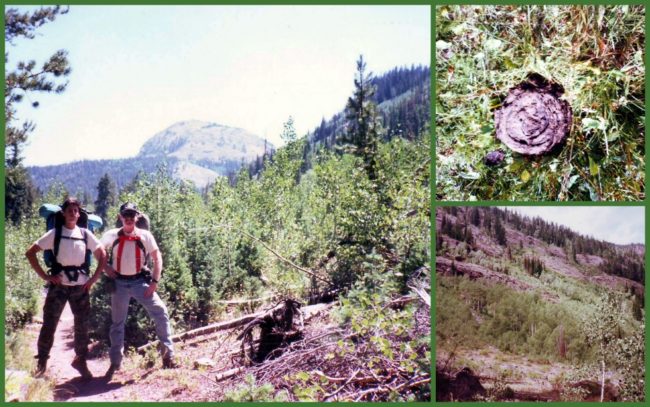 Having recovered somewhat we went the rest of the way up the mountain and visited both lakes before heading back down. This trip was my introduction to serious backpacking and I learned tons from it.  First lesson, get a real backpack.  Though we still laugh when we talk about "The Cylinder", trust me when I tell you it wasn't funny at the time.  Imagine hiking six miles up a steep mountain to over 10,000 feet with a 70 lbs. load and no waist belt or sternum strap.  I ended up using my faithful red bandana for the sternum strap which helped a lot.  Second lesson, do not entrust your feet to cheapo, worn-out Wal-Mart Coleman boots, bad idea.  I think I went through an entire package of Moleskins on the way down as my feet were trashed.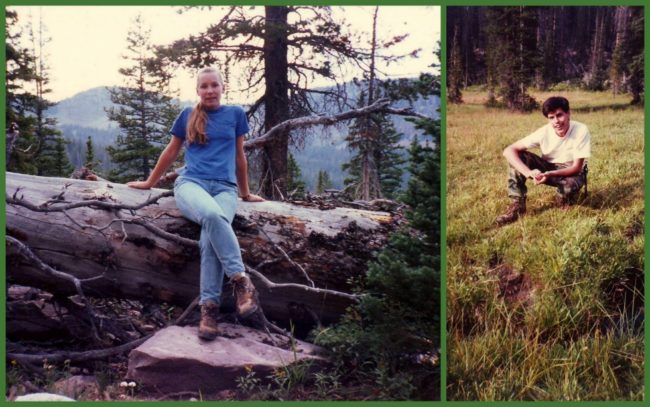 This hike was to become the first of countless ones after that. Thanks to Jeff & Rachelle I've been in: Utah, Wyoming, Colorado, Nevada, New Mexico, California, Idaho and Oregon.  My upcoming trip in September will be adding Washington state to that list.  And this folks was the beginning of the Western-Traveler era.
Last modified on
: August 28th 2019.