Sleeping Pads
I thought about putting the sleeping pads in with the SLEEPING EQUIPMENT section but decided that there was already a lot there to absorb, and that talking about pads would take a while.
Generally-speaking there are three basic considerations in selecting a pad: pack weight, size and comfort.  The rule is "the lighter the pad, the less comfortable it is".  In my case, I want the most comfort available, no if's, and's or but's about it.
As with all backcountry gear they come in multiple sizes, shapes, configurations, thicknesses and of course weight, based on materials used in production.  I'll try to more or less describe these going from lightest to heaviest, but as with any products this is not an absolute list as different manufacturing techniques can alter weight within each category, so keep that in mind.
It's been my experience that the folding pads tend to be the lightest overall.  Many of these utilize a reduction in material use by adding dimpling to the surfaces, effectively reducing the total amount of total material used.  I've tried camping with these but found them inadequate in making for a softer sleeping surface.  They beat nothing, but not by much, at least for me.  Having said that, if you're doing a major backpacking trip, and can get adequate comfort on a pad you choose, this is the way to go.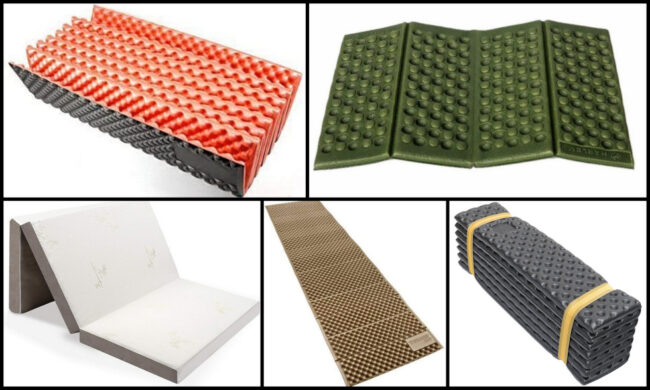 The next category to look at are pads made out of closed cell foam.  These tend to be very lightweight, are fairly compact and can be rolled up which is great if you're backpacking as you can carry them on either the top of the pack under the flap or on the bottom-of-the-pack tie-on straps on most pack.  There are several variations on these, some even have soft foam egg crate on one side and a stiffer material on the other to help with keeping you comfortable on rocky ground.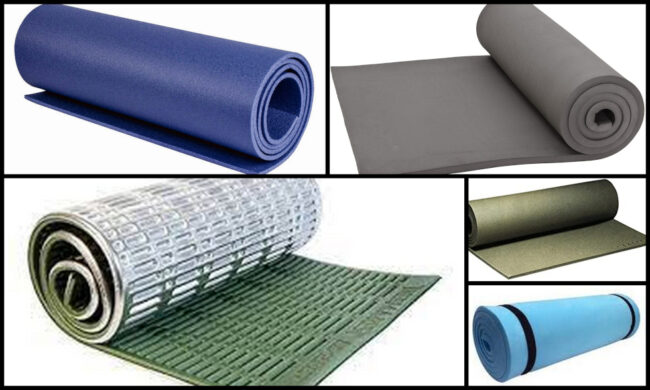 Next in line are the inflatable pads, similar to the type used in swimming pools as floats.  Backpack versions of these are much better quality and many even come with some kind of pump to make inflating them easier.  Material range from vinyl to high-end nylon.  These can be very comfortable and come in a variety of thicknesses.  Many also have an attached pillow so you don't have to bring one with you.  I've used these and usually just put my fleece vest or jacket on top of the air pillow to make it more comfortable.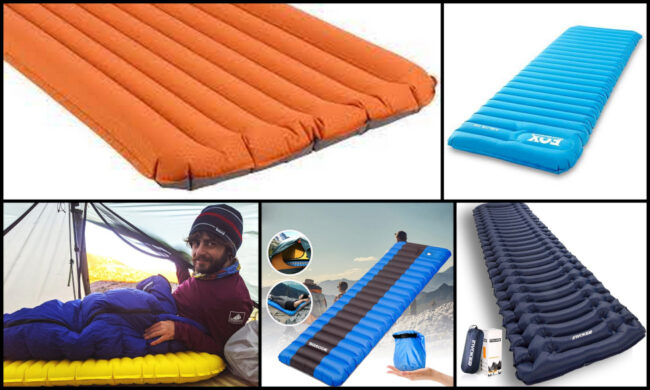 After purchasing several pads over the years, trying to find the "perfect pad", I finally ended up with a self-inflating Therm-a-Rest type of pad.  It's a full 2 inches thick and 72 inches long as well as comfortably wide.  It weighs about three and a half pounds (which is considerable in a pad) but does give me a better night's sleep than other pads do.  Additionally, I keep warm on the coldest night, another "plus" to the thicker pad.  These are referred to as "self-inflating" pads and have a tough canvas-like exterior on one side and a slippery nylon on the other.  The canvas covering means you can use it on rocky ground and it won't lose air as it's unlikely to be punctured.  Several manufacturers make these so you don't have to buy Therm-A-Rest if you don't want to.  I personally like the ones you can get at Cabela's.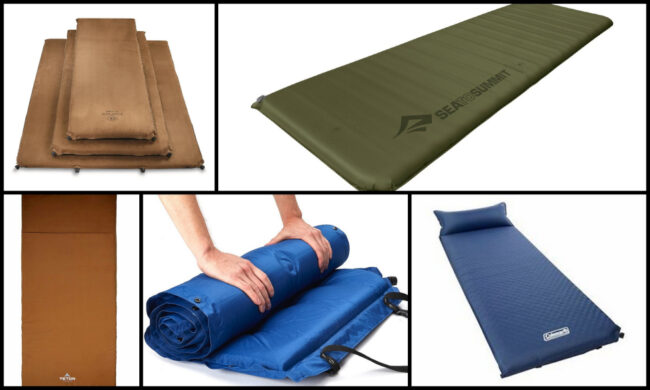 There are pads on the market which weigh and cost less, but for me the larger and thicker pad is worth the weight and money.
When car camping, I use army-style cots with my pad and pillow on top.  It's just like sleeping at home.
Last modified on
: January 3rd 2023.