Blue Heron Loop Trail, Kentucky
Autumn is, and has always been my favorite season. There's a special magic as the leaves turn from green to everything but. Nothing makes me smile like the smell of wood smoke in the morning. One of my best friends, the late Bro. Leon Decker and I have spent countless hours talking about his early years cooking over an old wood stove. His favorite memories are of his mother's homemade biscuits on a Sunday morning. If you close your eyes and daydream just a bit, you can smell the aroma wafting through the crisp, cool air.
I guess that's why I enjoy fall hiking so much, takes me to an era that I've always wished I'd lived in. On a trip to the Big South Fork National River & Recreational Area I found a wonderful getaway, offering incredible natural beauty, and a strong sense of times long gone.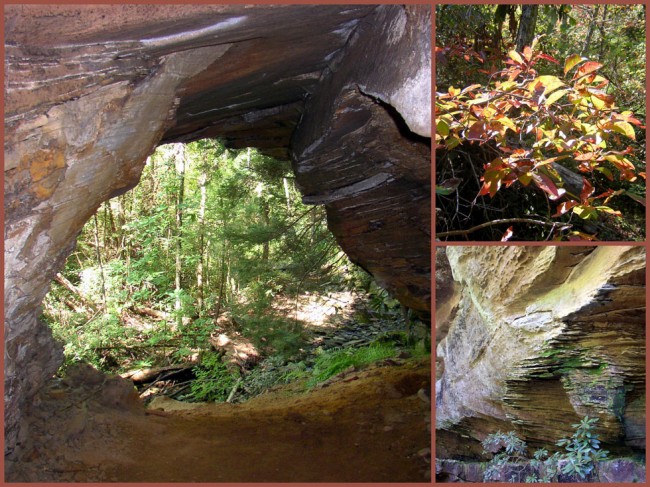 Big South Fork sits on the boundaries of Kentucky and Tennessee (southeast corner of Kentucky, northeast corner of Tennessee). This National Park Service area offers scenery comparable to the more-famous Great Smoky Mountains National Park, with much smaller crowds. I spent a week there, exploring every trail that time permitted. What made this experience especially enjoyable was that I didn't see a single soul while on any trail, talk about solitude.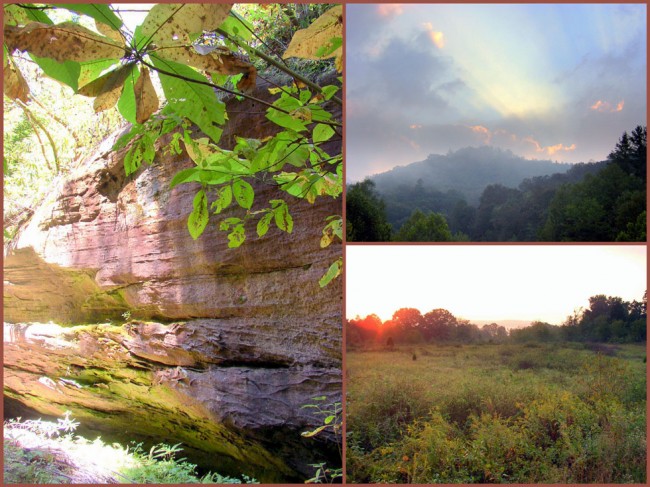 For my first hike, I chose the Blue Heron Loop Trail, on the Kentucky side. This 6.4 mile, moderate hike was an excellent choice for starters. It was long enough to make the experience worthwhile, while not terribly difficult. Red-colored arrowhead blazes made the trail easy to navigate.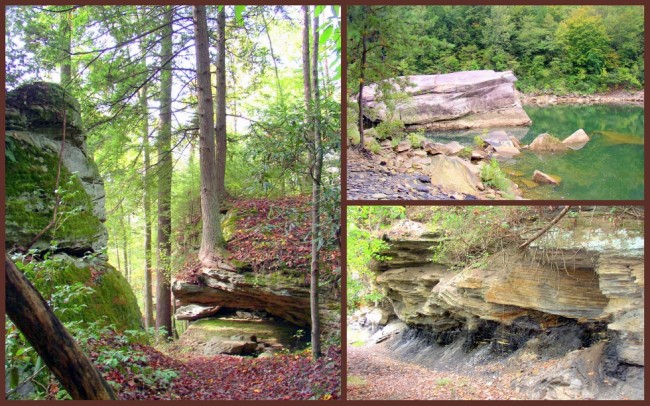 The scenery was ever-changing. One moment would find you in dense forest, the next you'd be working your way under a massive rock shelter. The variety of vegetation is amazing here. You'll find everything from Mountain Laurel to massive Tulip Poplar trees. The woods are alive with an abundance of wildlife as well: shrews, foxes, deer, wild turkey, squirrels, bats and black bear all share the forest with you.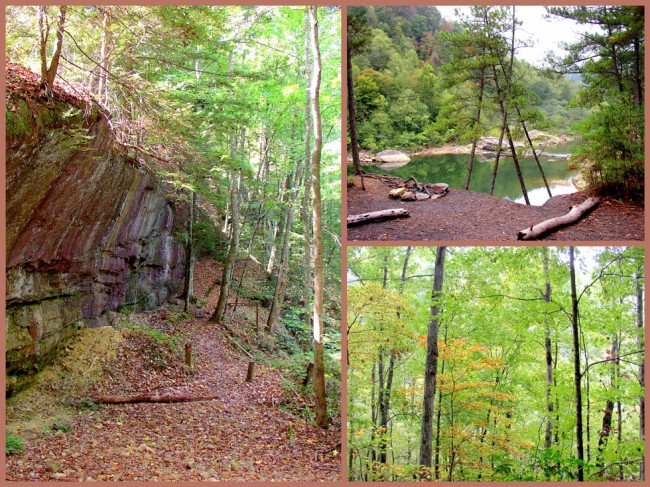 After nearly two miles of excellent hiking you'll suddenly pop out of the woods into a cleared area, home of an old coal mine (Blue Heron, Mine #18) which operated early in the 20th century. Here, you'll find an impressive "ghost town" which gives you a flavor for life in the hills. This area was so inspiring that I wrote a Travel Log for it.  See Blue Heron Mining Community.
From the Blue Heron community I decided to take a 3.2 mile detour to the Catawba Overlook. This trail and scenic overlook are well worth the effort if you don't mind pushing the hike from 6.4 to nearly ten miles. Be careful on the way back down however, I missed the hiking path and ended up on a horse trail, eventually arriving at the river. My options were: hike back up and find the human path or fjord the river. As the water was shallow and the weather warm, I decided to get my feet wet.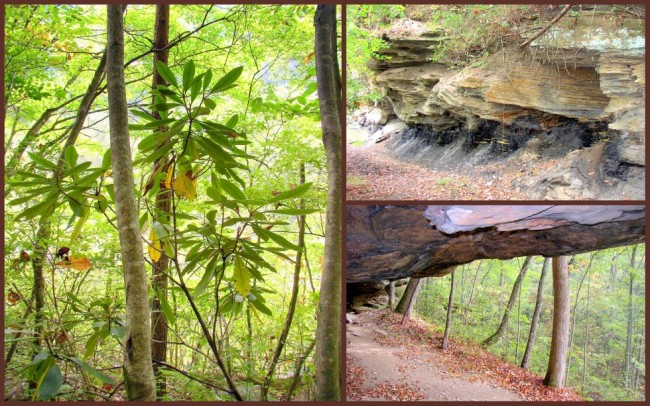 I eventually made it back to camp where I settled in and enjoyed the rest of the evening.
If you're planning to visit Big South Fork, make sure to stop by their website and get current information. It will give you excellent information on: camping, special programs, natural and cultural areas of interest, etc. The address is: http://www.nps.gov/biso/index.htm.
Last modified on
: February 4th 2014.